This Dad Gave Himself A Tattoo And Livestreamed It On Facebook
Your dad could never.
This is 21-year-old Dihnai and his father, Outhay, who live in California in the US.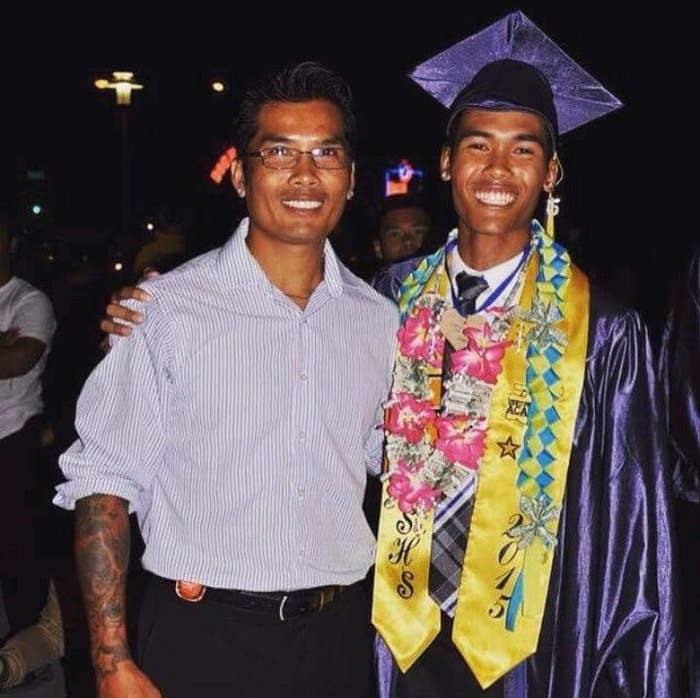 On Sunday, Dihnai noticed his dad was doing a Facebook Live broadcast, streaming to his friends. Curious about what was happening, he clicked the stream, and discovered his dad was...casually tattooing his right arm.
"He just likes to post on his Facebook about what he's doing," Dihnai told BuzzFeed News. "Sometimes he goes on Live when he's fishing and stuff."
Dihnai explained that his dad didn't have too many friends on Facebook, so most of the time it was just a few mates and family watching and commenting.
But it was when Dihnai decided to tweet about his dad's exploits that more people took notice. "My dad really the coolest mf ever lmao I went on Facebook and he had a live story of him tattooing himself," he wrote.
The tweet blew up in a big way, with over 15,000 retweets, 90,000 likes and thousands of people wondering if Dihnai's dad — who many nicknamed "#InkDad" — was single.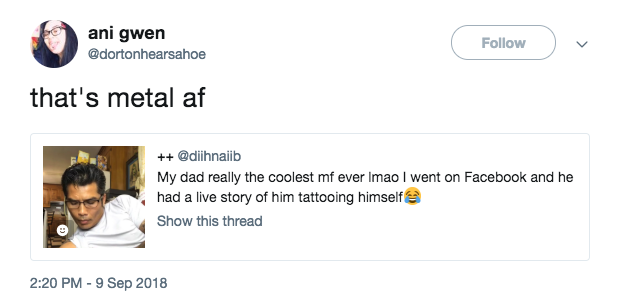 Unfortunately for new fans of Ink Dad, Dihnai's parents are very much still together.
But that hasn't stopped them...
Dihnai says his dad knows about his new-found internet fame but that he doesn't really get it "other than a bunch of people have seen his face".