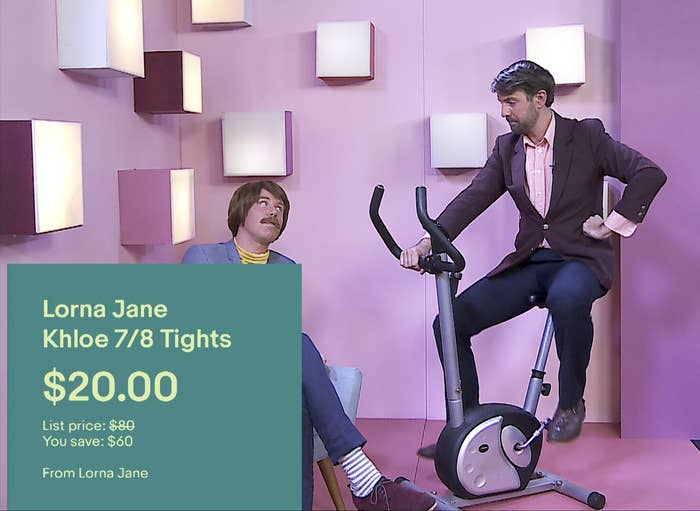 On the first Wednesday of June, eBay Australia cautiously pressed play on a "risky" four-hour Facebook Live. The stream – hosted by two Aussie comedians – was designed to sell products and showcase the eBay marketplace, while also giving off the nostalgic vibe of '90s late-night television. It was barely scripted, brash and brutally unhinged.
"We went into it with the right level of nervousness," eBay Australia's chief marketing officer, Tim MacKinnon, told BuzzFeed News over the phone. "It was a risk – four hours of live television. We didn't announce it. We announced the deals but we didn't announce the content."

Over 170,000 people watched eBay's infomercial and thousands of units were sold.
"One thousand doonas in 45 minutes," said MacKinnon. "One of our products even sold out prematurely and the guys on live TV had to handle it. They did well."
With the infomercial, eBay Australia represents one of many brands beginning to use Facebook's video platforms in the same way advertisers used to think about using television.
It's not a new concept – and MacKinnon is acutely aware of this – but rarely have Australians been confronted with an ad that they choose to watch on their Facebook feeds. eBay plans to stream three more Facebook Live infomercials on every Wednesday of June, meaning there are plans for 16 hours of live content in total.
"Let's not hide the fact we're trying to sell products," said MacKinnon. "We have one in two Australians who don't use eBay – we want new people engaging with the brand."

Other Australian businesses have tread lightly into Facebook Live advertising. There are travel companies hosting semi-regular travel shows using the streaming platform and the CEO of Xero – a small business and accounting company based in Oz – has recorded multiple live Q&As.
Facebook hasn't been shy about its push towards video either. The Wall Street Journal reported in January that the social media giant was pushing forward with an app for television set-top boxes, like Apple TV, and in February the company's CEO, Mark Zuckerberg, all but confirmed that he wants Facebook to become the newer, better, television.
"When people want to watch videos or want to keep up to date with what's going on with their favourite show," he said during Facebook's Q4 earnings call, "...they can come to Facebook and go to a place knowing that that's going to show them all the content that they're interested in."
"Facebook Live tells the human side," said eBay's MacKinnon. "People are sitting at home in bed on a cold June night watching a live stream on their laptop, or tablet, or whatever, of a couple of guys spruiking an infomercial. They're enjoying it and they're buying the product."
The reception to eBay Australia's modern infomercial was overwhelmingly positive.
"Some people even commented that they were setting up alarms for next week so they didn't miss it," said MacKinnon.
Whether Facebook's hundreds of millions of users will buy into the "new" ad platform, or if they'll turn on it with a firestorm of furious comments and Facebook-created "angry" reactions, only time will tell.