Here's How Facebook Is Changing The Way It Deals With Mental Illness
Facebook wants to stem the flow of social media–associated mental illness.
Facebook has announced a series of changes to the way the company supports those dealing with mental health issues in Australia.
In a post on their site, Facebook said they were giving their users "more resources, advice and support for people who may be going through a difficult time."

However, the initiative is not a new one.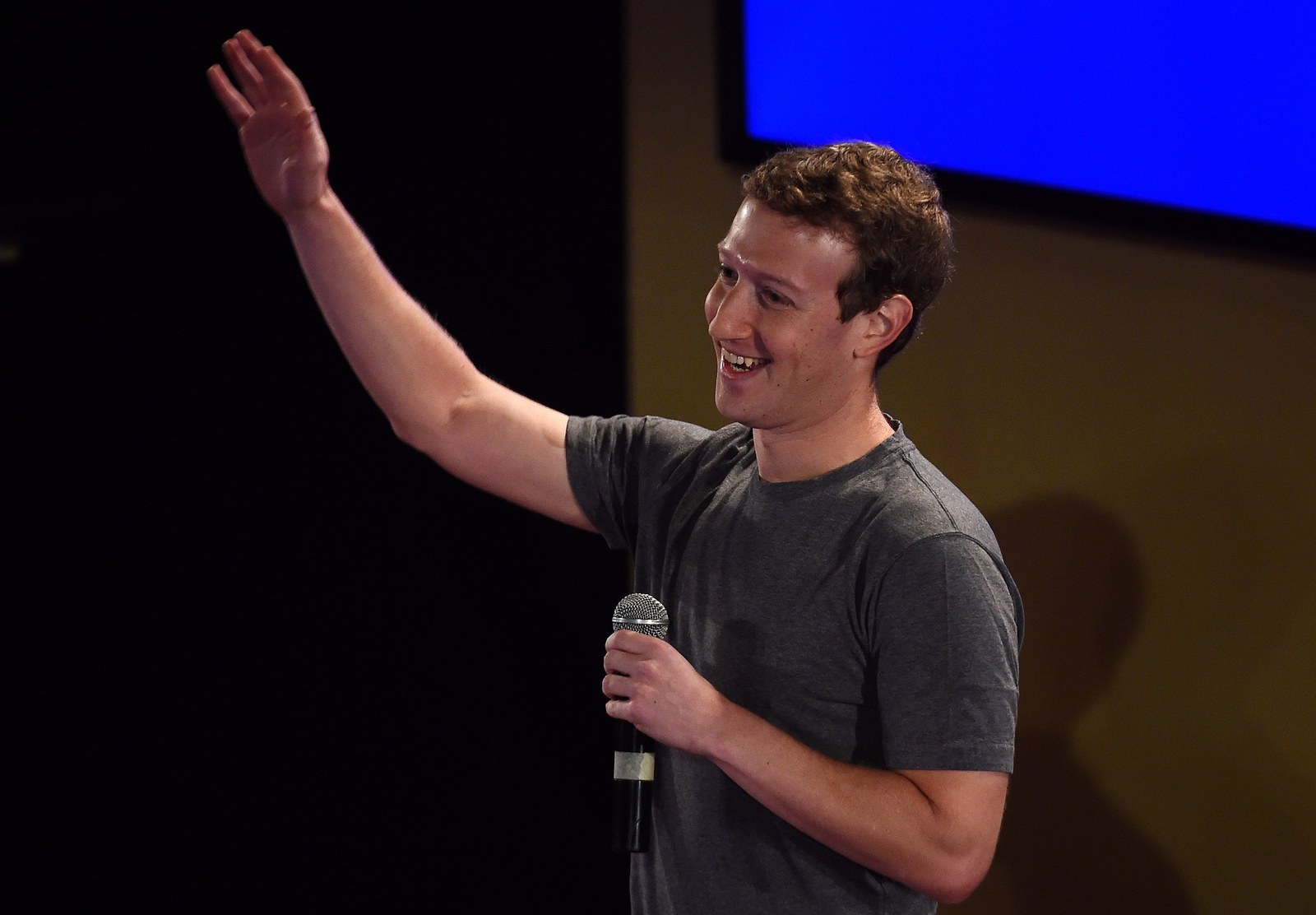 It was first rolled out in February in the US, and Facebook Australia has learned from the experience when considering how they would support Australians dealing with mental health issues.

Facebook worked with groups like Forefront Health and Lifeline in the US, and they paired up with Headspace and Beyond Blue to roll out the changes to the Australian public.
If someone writes something on their wall that others find concerning or troublesome, Facebook will allow users to report the post to a 24-hour support team. Teams in America, India, and Ireland will be working 24/7 to review the reports and reach out, or send support to the user if it's deemed appropriate.
"Having a medium to do this with is great," Headspace CEO Chris Tanti told BuzzFeed News. "The longer someone sits with [these mental health issues] the worse it gets."
The new "Suicide Prevention Flow" is something that has been thoughtfully redesigned for the Australian audience.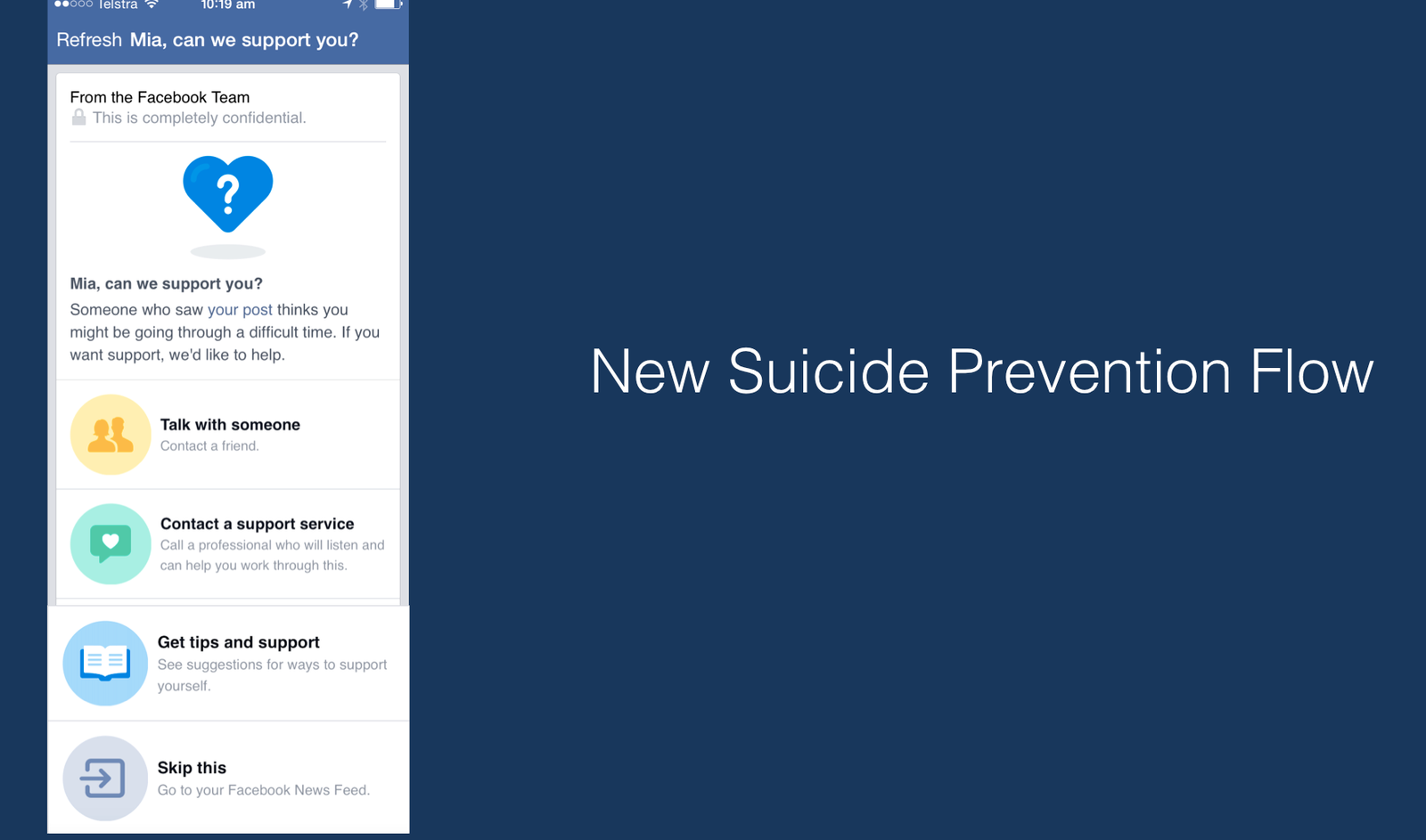 Suggestive language, warmer visuals, and a lack of terms like "lifeline" are all deliberate, with a representative from Facebook telling BuzzFeed News these sorts of terms were being removed because they imply crisis.

Click-throughs are also key. The "flow" works similar to a timeline, but Facebook believes, after discussing with various mental health experts, that the process of clicking through a series of pages and graphics will help to calm the user's mental state.

Facebook is also working hard to ensure users feel they are being heard.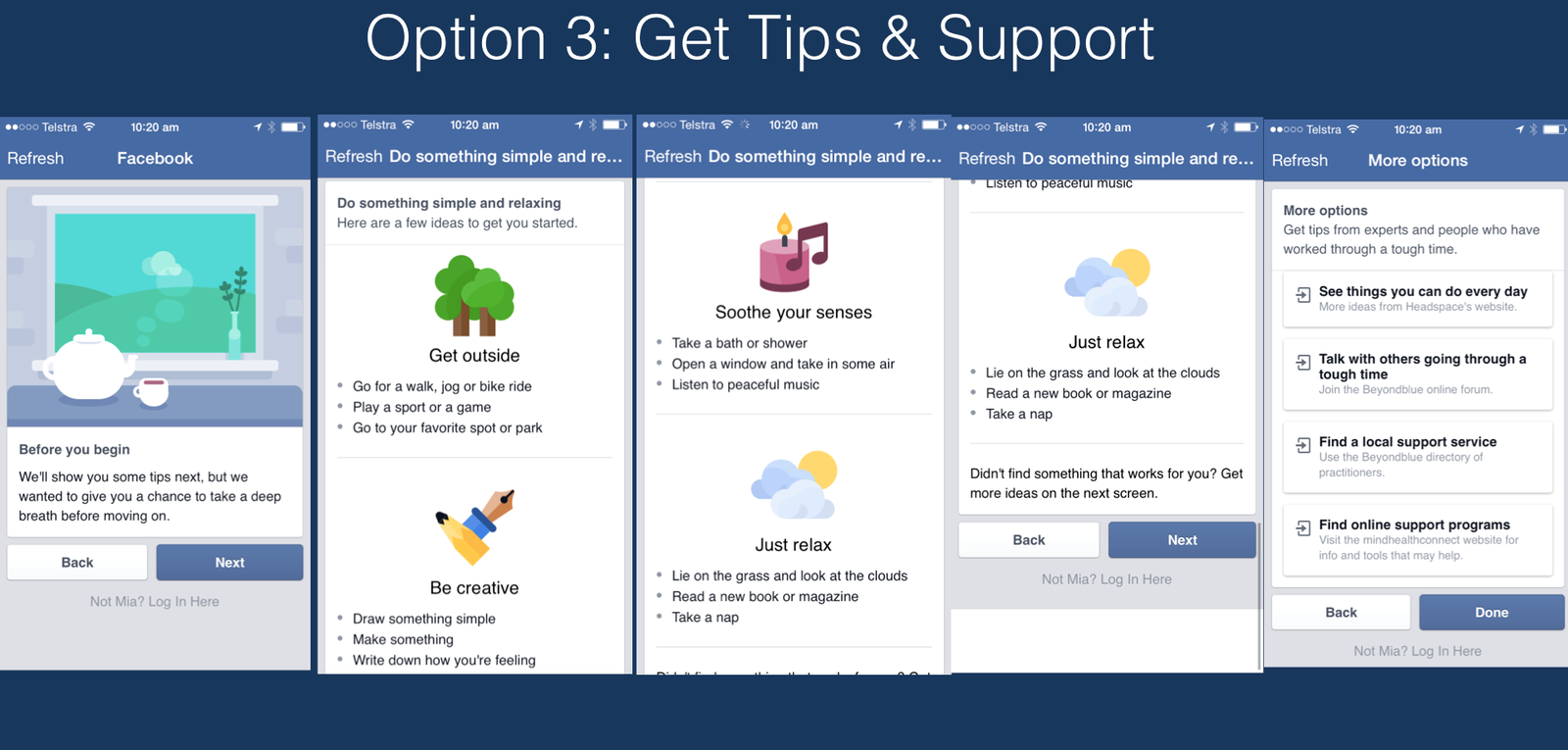 There are a series of stages in the new flow that begin with being offered the opportunity to talk to someone - via phone, email, or message - and also a series of suggestions for the user to help deal with their problems proactively. All of this is part of the flow and is illustrated with moving GIFs and simple, easy-to-read bullet points.

Previously, there had been a reported hole in Facebook's framework regarding online bullying and mental health, but they're working to eradicate these issues now. "Social media used to drop off when problems arose," said Tanti.
Users will also have the ability to send a message to someone they're worried about - one that has even been pre-populated with suggested text if they'd like - encouraging their friend to seek help.
To tackle mental health in the best way, Facebook made sure to include two, separately targeted forms of help. Some posts and information is targeted toward 13–24-year-olds (Beyond Blue) while other resources are targeted toward people 24 years old and up. But it's still left up to the user to pick which resource they'd like, with Facebook choosing not to assume age based on what someone has put into their profile.
There are new resources on Headspace that also discuss the use of a Facebook account after the death of a user.
This page covers memorialisation, removal of an account, and how best to report offensive posts on a memorial page. A "help a friend in need" guide has also been produced, discussing how to reach out to someone you may feel is having a hard time. The two-page guide offers advice on possible warning signs of emotional distress, how to help, and what to think about when approaching a friend about their mental health.

BuzzFeed News was told there is no plan to change the way Facebook's other platform, Instagram, deals with mental health "at this time," but the continued development of the site's other factors can only mean it is inevitable.
Facebook said they won't allow users to misuse the site to promote harm, but still don't have a way to locate and remove "private" groups that may be instigating and promoting things like self-harm and other issues.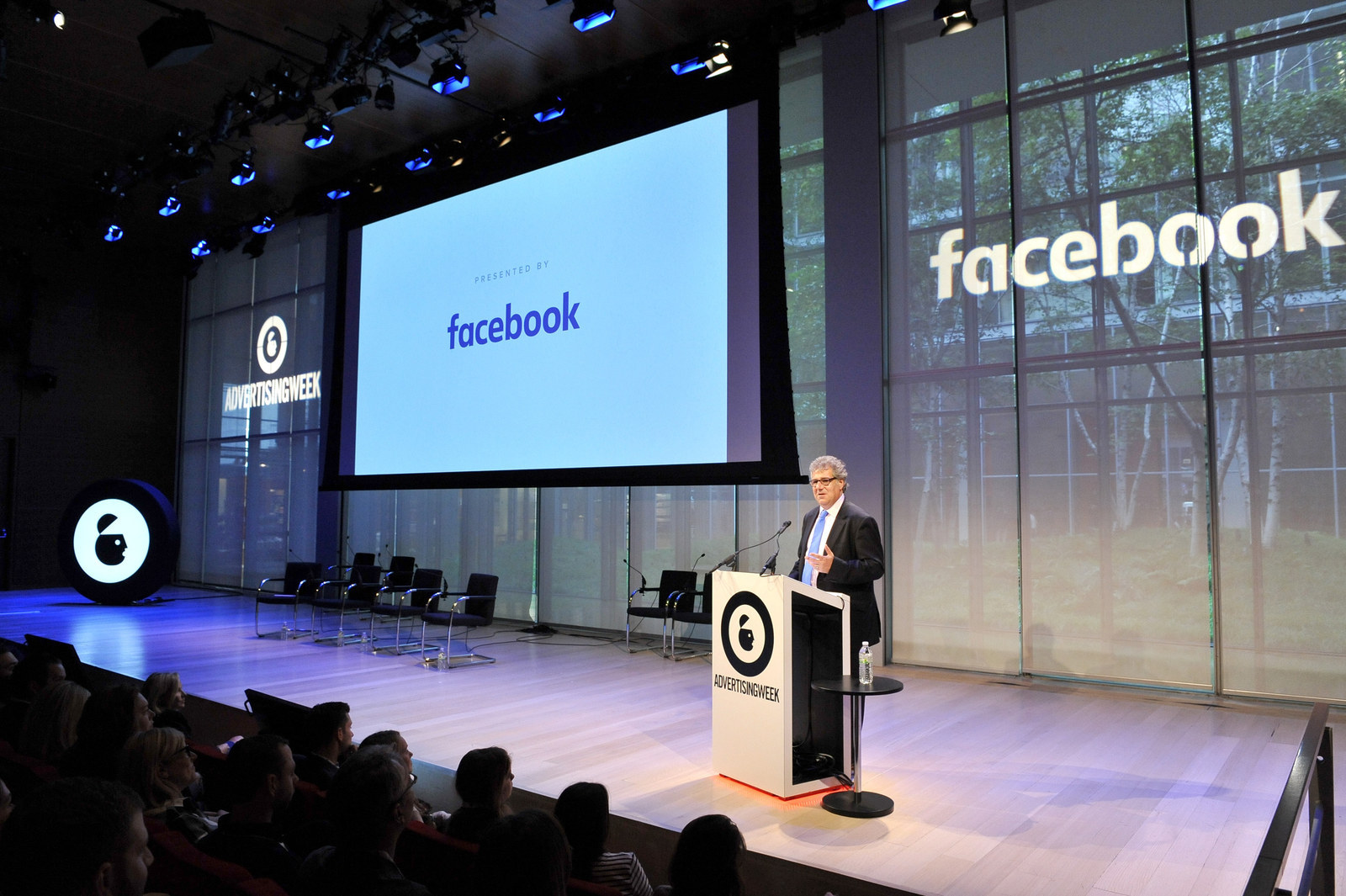 This is still reliant on the pages being reported by a user, but Facebook seems confident incidents of reporting these pages will only increase over time as they offer more mental health resources to their multimillion-user community.
"We are lightyears ahead in terms of discussion about mental health," said Headspace's Tanti, who seems genuinely pleased with the rollout of the new features.
To learn more about depression and anxiety, check out the resources at BeyondBlue Australia on 1300 22 4636, Kids Helpline on 1800 551 800, or ReachOut.
If you are dealing with thoughts of suicide, you can speak to someone immediately at Lifeline Australia on 13 11 14.
Always consult with your doctor about your personal health and wellness, including any recommendations you find online. BuzzFeed posts are for general informational purposes only, and cannot replace professional and individualized medical diagnosis, treatment, or advice.