Earlier this week Twitter user Felicity (@fntsygrl) sent out a tweet about her pet hamster who had given birth to a dozen or so tiny babies.
The tweet went massively viral, with over 13,000 retweets and almost 50,000 likes. Felicity, it turned out, had only had her hamster for a week. She hadn't even named it yet and had no clue the hamster was pregnant.
Her series of tweets about the new hamster family's living arrangements also went viral.
On top of bursting cuteness onto the timelines of thousands of Twitter users, Felicity's tweets also started a discussion about something sinister: hamster cannibalism.
See, hamsters are one of many animal species that have been known to eat their young. Bears do it too, and they're kinda like big, deadly hamsters.
Suddenly, people all over the world were sharing their own shocking stories about hamsters eating their young. Honestly, it was a mess.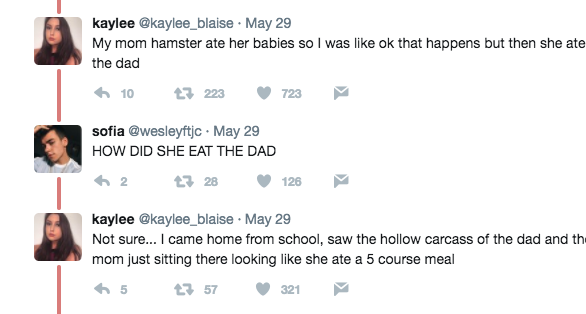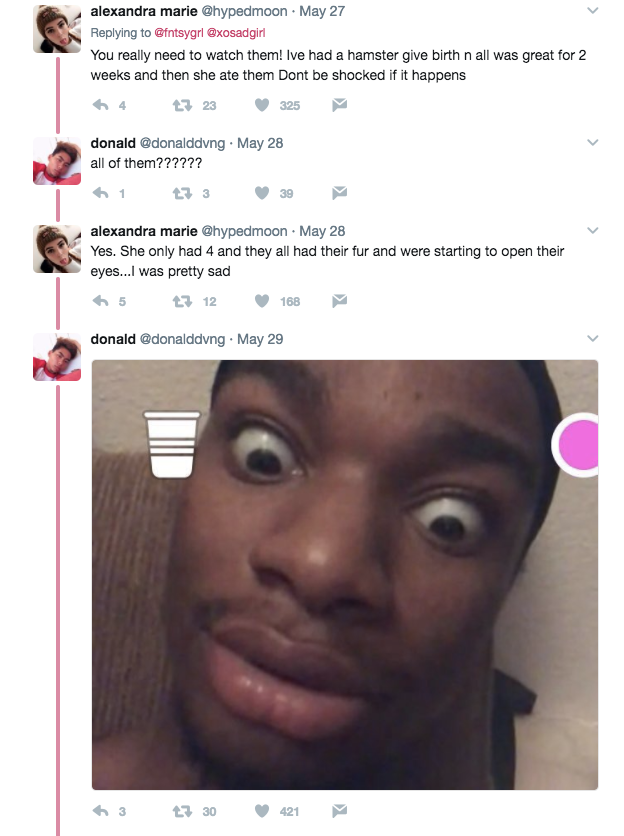 And there was also just a lot of general confusion about hamster babies and what they look like.
For what it's worth, Felicity's hamsters seem to be doing well:
So everyone please just give her a break.
TL;DR: Mumma hamsters sometimes (but not all the time) eat the babies and you should be prepared for such an incident.