What We Actually Know About Greg Hunt's "Cannabis Is A Gateway Drug" Claims
Who should you believe?
Federal health minister Greg Hunt may have evidence to support claims that cannabis use in adolescence can lead to mental health issues, but the evidence behind his belief that "marijuana is a gateway drug" is inconclusive, experts say.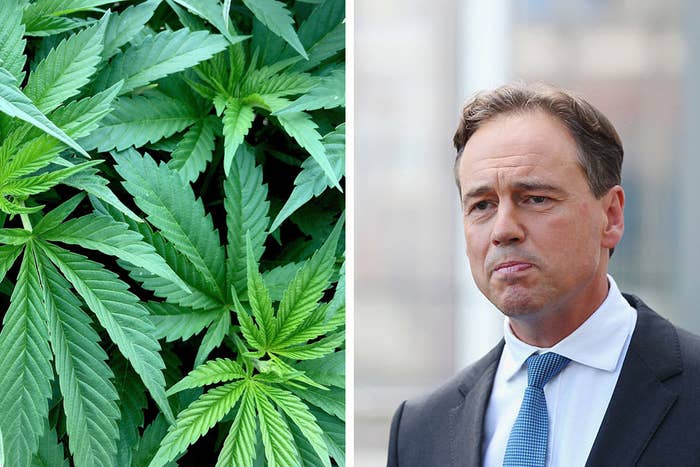 Responding to the Greens plan – announced last week – to legalise recreational cannabis for adult use, Hunt said the risk of graduating to serious illicit substances like ice or heroin from cannabis use is "real and documented".

"This has two major consequences," he said. "The first is the risk fo physical and mental health problems, and the second is that marijuana is a gateway drug."

"We do not believe it is safe, responsible or something which should be allowed."
While some studies have indicated the use of cannabis in adolescence can lead to mental health issues, it was Hunt's "gateway drug" claim that had many bothered.
The Australian Medical Association's (AMA) stance on the gateway hypothesis is that it is a "controversial" and "inconclusive" idea.

"Meta-analyses suggest that the progression in use that has been observed is likely to be due partially to the influence of independent common causes," says the AMA in its cannabis position statement.
Factors determining whether a person takes up illicit drugs include a person's societal environment. For example, interactions with people who regularly use drugs, and also with black market drug dealers, can increase the chances of a person using illicit drugs.
The United States' National Institute for Drug Abuse has found that while some research shows cannabis use can lead to the use of other illicit drugs, the majority of people who use cannabis "do not go on to use other, 'harder' substances."
"Alcohol and nicotine also prime the brain for a heightened response to other drugs and are, like marijuana, also typically used before a person progresses to other, more harmful substances," it says.

When asked to provide evidence for Hunt's gateway claims, a spokeswoman for the federal Department of Health said cannabis use in adolescence is "strongly associated with lower educational standards and increased use of other drugs".
"Lots of studies demonstrate this," they said.
The department did not offer any of these studies to BuzzFeed News.
President of the Royal Australian College of General Practitioners (RACGP), Bastian Seidel, told BuzzFeed News that a THC-rich, psychoactive form of cannabis "has potential to be dangerous", but that it should not be confused with the drug's medical form, which is low in THC and high in cannabidiol (CBD), offering little to no psychoactive effect.
"It's very confusing," he said. "My concern is that people will get confused and put medical and recreational cannabis together."
Seidel said "there might be a link to risk of schizophrenia" in using cannabis, and quoted an extensive report by the National Academies of Sciences, Engineering, and Medicine which reviewed scientific research on cannabis from the last decade.
The same report concluded there was "limited evidence" that cannabis use increases the chance of initiating other drug use, and "moderate evidence" that there was a link between cannabis use and the development of dependence on other substances such as alcohol and illicit drugs.
On Monday, figures from the Parliamentary Budget Office showed the Australian economy could be boosted by almost $2 billion a year if recreational weed was legalised.