Doughnut Time, the popular Australian franchise, has left employees unpaid amid announcements the company is being sold by entrepreneur Damian Griffiths to former company restructuring consultant Dan Strachotta. Now staff say they were promised weeks' worth of unpaid wages just days before hundreds of them lost their jobs.
On Monday, Griffiths finalised the sale of his doughnut empire, which had expanded nationwide and internationally since its launch in 2015.
At the height of the company's success there were more than 30 stores in Australia and the UK, employing over 500 people. "I expanded too quickly, I guess I had too many big ideas and dreams," he said in a statement.

Griffiths was also the founder of multiple hospitality ventures, including Queensland's Limes Hotel and Brisbane bar Alfred & Constance.
Since the announcement of the sale to Strachotta, Doughnut Time's Facebook page has been inundated with messages from the public demanding it pays its staff, who say they are owed weeks in back pay. The page has since been deleted.
According to Griffiths, the payment isn't likely to come. "I apologise to the staff for not being able to pay them in full," he said in the statement. "It's a terrible position for them."

On Tuesday, angry Doughnut Time employees plastered closed shopfronts with messages to their embattled boss. One photo, showing a sign on Sydney's Queen Victoria Building location that read "Doughnut Time hasn't paid us in weeks and now we all got fired", went viral.
Laleh Bagheri, who worked at Doughnut Time locations across Sydney, told BuzzFeed News she knew dozens of people who, like her, were owed money, and that the closure was a long time coming.
"Dan [Strachotta] kept telling us we would be paid when he became the owner," she said. "He called each one of us personally, but of course there's no written evidence."
According to staff, Doughnut Time's financial issues have been clear since October last year. Multiple employees told BuzzFeed News the company was failing to pay rent at various locations and had also stopped paying for garbage pickup — instead keeping the rubbish bags at shops and sometimes in kitchen coolrooms.
Fellow employee Franka Deluca said she and other staff had refused to dispose of leftover garbage themselves when they were asked to transport it in one of the company's doughnut delivery vans to an industrial kitchen. "That is so unsanitary, obviously, and it was not in our job description," Deluca told BuzzFeed News.
Todd, a delivery driver for the company, said he received his last payment in January. "Some of us are coming to grips with the fact that we may have worked weeks or months for free," he told BuzzFeed News. "We haven't heard anything formal or legal."
In Melbourne, employee Jen* said 60–70 of her fellow employees had been left unemployed and with money owed. "The situation is fucked, honestly," she told BuzzFeed News.
For the last four months, staff told BuzzFeed News, they had been promised by Strachotta that a new owner would soon be announced, and that the company would make good on unpaid wages.

At first, staff noticed their pay was being delayed. "I would be paid two weeks in a row, and then would go without pay for three weeks," said Deluca.

They were told it was temporary, but Bagheri said she knew there was trouble when reports started surfacing that Griffiths was facing personal bankruptcy.
Last Thursday, a group of NSW Doughnut Time staff sent an email to Strachotta notifying him they would be striking.
Strachotta replied, saying he had confirmed Griffiths would be paying all NSW staff all outstanding pay by close of business Friday. On Sunday, staff were notified by Strachotta that stores he was not taking over would be going into liquidation. "There will be disruption, however this is the best possible result for the brand to continue and to save as many jobs as possible," he wrote.
Manly Doughnut Time store manager Chris Boucher told BuzzFeed News promises from Strachotta that staff would eventually be paid were the only reason employees continued to return to work. When they were notified that many of them no longer had jobs, he was furious.

"There was no mention as to whether we still had jobs, if or when we would receive the rest of our payment," he said.
"I told him that we have been given no direction as to whether we have jobs as there has been no termination of contract. I have a full-time contract. Surely that would need to be terminated?"
Now staff who are owed money say Strachotta has told them the previous owner's debt is not his responsibility.
Strachotta told BuzzFeed News he had taken on some of the Doughnut Time stores he believed could recover, and was planning to implement a new digital strategy. "I'll be offering jobs to as many of the current staff as possible," he said via email.
As for matters regarding failure to pay staff and stopping payments of garbage pickup, Strachotta said these were questions for the previous company owner.
Strachotta denied reports that he was ever the director or CEO of Doughnut Time, and told BuzzFeed News he was only hired to help restructure the business in the capacity of a consultant.
Staff reject this claim, saying Strachotta referred to himself in company emails as CEO (which BuzzFeed News has seen) and have provided photo evidence that there was also a sheet in every store outlining the major positions in the company, identifying him as CEO.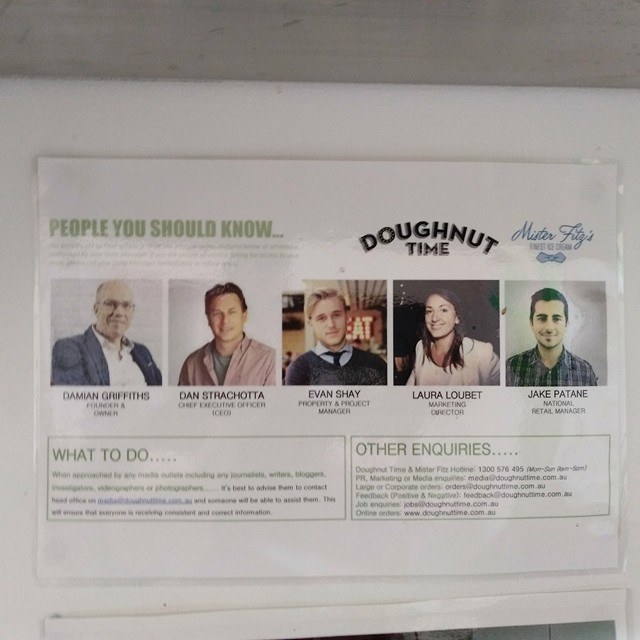 Despite Strachotta's assertion that he would be hiring current staff, BuzzFeed News understands many of the former employees in NSW, Victoria, and Queensland will refuse new contracts — planning instead to adorn Doughnut Time storefronts with similar messaging to that at the Sydney QVB store.

The Fair Work Ombudsman spokesperson confirmed to BuzzFeed News that FWO is currently conducting inquiries in relation to Doughnut Time.
Looks like there are no comments yet.
Be the first to comment!