A blackboard sign in a beachside cafe has sparked online controversy for its "anti-Australia Day" message.
Thousands of comments racked up on the post, ranging from outrage to approval, but the incident seemed isolated and destined not to travel further.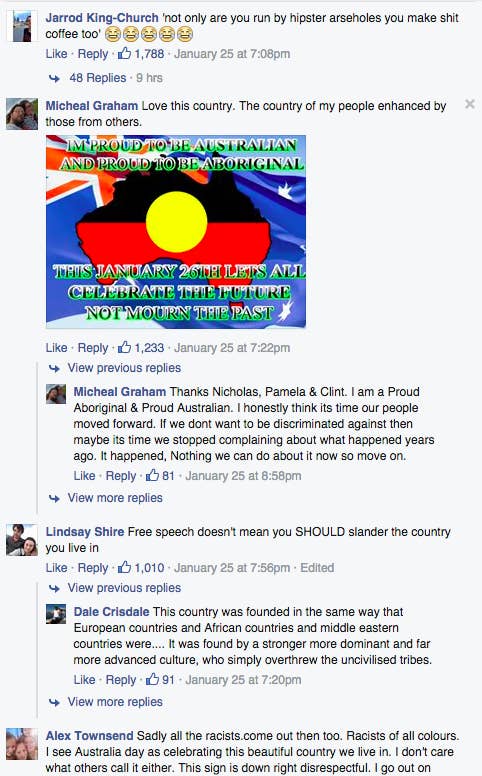 However, the photo was eventually picked up by another Facebook page: Aussie Infidels. Aussie Infidels has a much smaller, but still active and engaged audience than Meanwhile In Australia.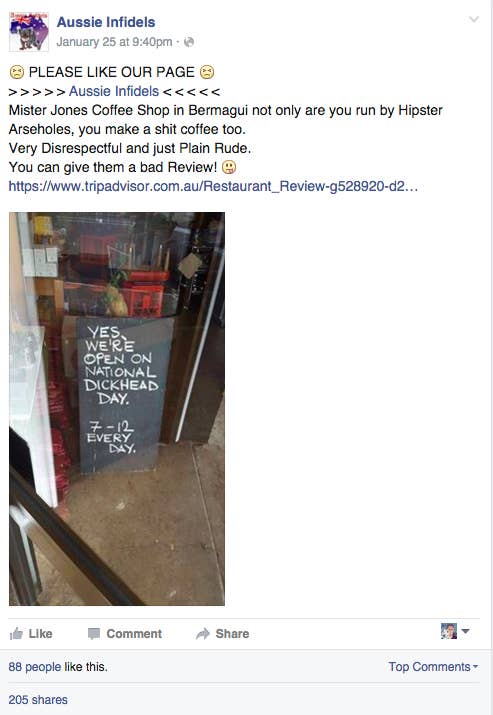 The wave of attention saw the Mister Jones Facebook page inundated with negative reviews, forcing them to close their page (it has since been re-opened).

It is alleged that the Aussie Infidels Facebook page noticed Mister Jones Coffee had closed their account, and took it upon themselves to make another page called "Mister Jones Coffee Shop" which they used to share their content.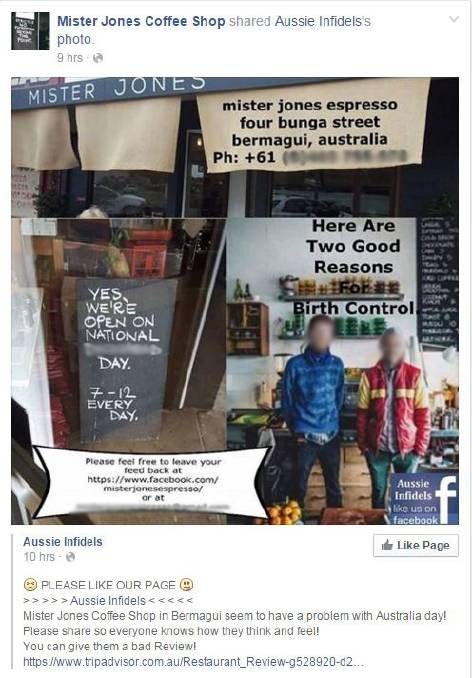 After all of this, Tripadvisor and Google Reviews were swamped with hundreds of one star reviews for the cafe.

The admin for Meanwhile in Australia said she had "no associations" with the Aussie Infidels page, and that she felt bad about the reactions to the sign. "He left himself open to public scrutiny by putting the sign up in the first place," she said.
In a statement to BuzzFeed News, the owner of Mister Jones said he was shocked at the amount of abuse he had received.
"Over the last days, messages have been cascading through my email account, containing unprintable abuse and describing group plans for physical attacks," he said.
"My voicemail account has mercifully reached capacity and I've long stopped listening to the graphic and explicit death threats. These messages have been much more chilling than the thousands posted online."
"The provocative blackboard seems innocuous now, entirely disproportionate to the scale of the hatred. Indeed, taken on face value, the blackboard was possibly the most
Australian thing that one could write about 'Australia Day', in a country that claims to be
proud of its 'larrikin' irreverence and self-effacing humour. However, in the few moments that it was displayed, the sign lifted a rock from under which so many interesting things have crawled."
He also pointed out that his sign had no intention of singling out any individuals, and that his regular customers rallied around him when he opened for business on Australia Day.
"My blackboard's message was addressed to no one in particular. Arguably, it offended those who experienced a moment of self-recognition. As these individuals continue to over-react, the sign only becomes truer. The shoe clearly fit, and they wore it."
"Many of the online comments gloated over what they saw as my inevitable loss of
business and the demise of my espresso bar. These groups and individuals threatened
vandalism, arson, murder, mass violence and also threatened those who chose not to
boycott. Mainstream media have also been curious about the effect that such
overwhelming social media hatred might have on a small business. On 'Australia Day' morning, the door locks to my business had been drilled out and the windows glued shut. We opened for trade."
"It was our biggest 'Australia Day' crowd on record. Many people travelled from as far as Batemans Bay in the North and Merimbula in the South to drink a coffee and have a laugh. Among these supporters, we were particularly happy to welcome esteemed members from some strong, local, and largely marginalised communities."