Christian organisation Youthworks has issued a statement saying it will update its teaching guide after a religious education program had primary school children act out the beheading of Goliath in class.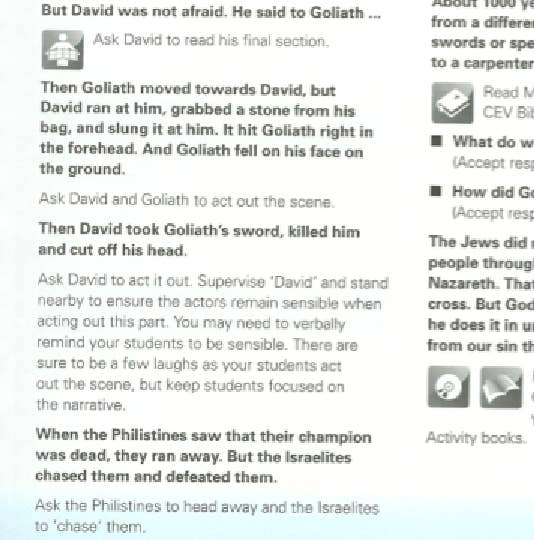 The Queensland state school system provides religious instruction in one-hour classes once a week. These classes are organised between members of a faith group and school principles.
Religious leaders who want to teach at schools apply to the principle in writing. From there, a single (one faith) or cooperative (more than one faith group) arrangement is made.
Criticism of the program is not isolated to one opinion piece, with groups like Queensland Parents for Secular State Schools forming to campaign for more inclusion of young children in state schools "regardless of race, religion, or culture".
Cathy Collins from the QPSSS told BuzzFeed News the group was formed to "get a network of parents together that have fair an reasonable requests."
"Most parents seem to agree to let their children do Religious Instruction courses because they assume it's a religious education, just learning about different religions," she said.
The QPSSS believe the teachings in the Christianity branch of state school religious instruction leaves children feeling like they have no other option than the religion.
"We're not anti-religion, we just believe that one religion [Christianity] should not get preference over another," she said. "Last year my son came home, and I had him in the class because there was only a very small number of kids that had been withdrawn so it was very isolating for him. So one day last year, he told me that his teacher told him he was 'like a dirty cloth' and that if he opened himself up to God he'd be 'clean'."
"When things were going wrong in his life, he asked me if God was punishing him."