Towns along New South Wales' north coast and in southeast Queensland are currently dealing with torrential rain and flooding in the aftermath of the category four cyclone that hit far north Queensland earlier this week.
Cyclone Debbie ripped through Queensland on Tuesday and Wednesday, leaving thousands of homes without power and water, and now several regions are dealing with floods.
Communities in southern Queensland and northern NSW are facing a long rebuilding process. Among the impacted locations is the training ground for the NRL's Gold Coast Titans.
Overnight flood sirens sounded in Lismore in the far north of NSW, and floodwaters broke the town's levee for the first time since it was built in 2005.
Animals have also been affected by the storm and its aftermath. Livestock, native birds and even sharks have either been killed or injured by the storm.
And a shark that somehow found its way onto land was photographed by Queensland Fire and Emergency Services. It's already on its way to becoming a meme.
Emergency workers have been warning locals to look out for snakes swimming in flood water. Nine News presenter and Weekend Today host Tom Steinfort tweeted out a reason to take the warnings seriously on Friday morning.
Insects and spiders are also fleeing the flooding, pretty much trying anything to get to higher ground.
Yatala Pie Shop, the iconic bakery in Queensland, has also been surrounded by floodwaters. The iconic pie shop has been in business for more than 130 years.
And residents trying to grab a bite to eat at Lismore McDonald's have resorted to a new form of transportation.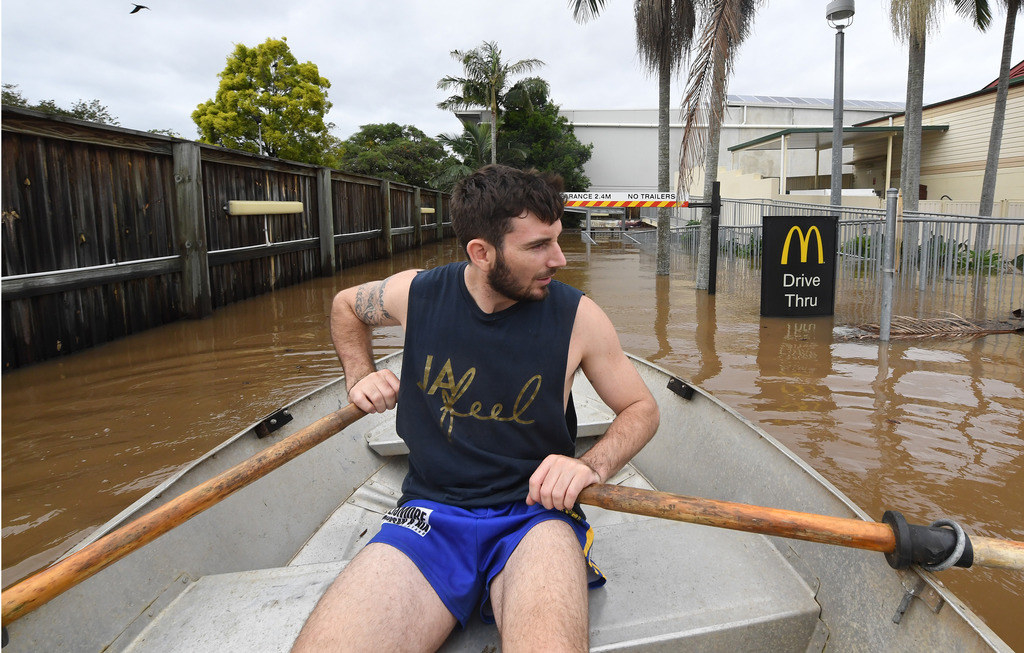 Tens of thousands of people have been evacuated from flood affected towns. The Tweed and Wilsons Rivers region in NSW and the Logan, Albert and Bremer Rivers in Queensland have major flood warnings in place.
Looks like there are no comments yet.
Be the first to comment!