This is Haleigh Conner, a second-year biology and neuroscience student at the University of Minnesota Twin Cities. Recently, Conner attracted waves of attention for her decision to dress up for Halloween as "Commitment".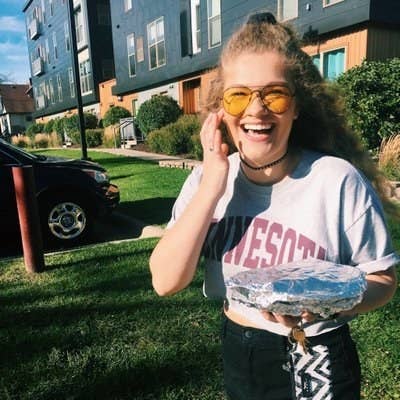 With Halloween fast approaching (it's literally today), Conner had been thinking about her costume for some time. In early in October she made the choice to go as "commitment."
After putting a photo of herself in costume on her Instagram, Conner tagged all of her exes and tweeted out the pic as well. That's where it really took off. Soon enough thousands of people were retweeting her with a range of reactions.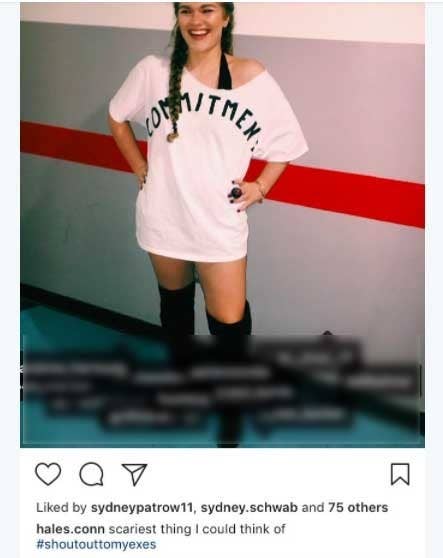 Conner told BuzzFeed News the "exes" were made up of boys from her middle school days, back when love and romance was silly.
"I had boyfriends in middle school, but that usually consists of only seeing each other at school and having your parents drive you around to places," she said. "It was never anything serious of course."
But Conner didn't really make that point in the photo caption she tweeted and, as a result, was at the back end of a lot of hate. "People are commenting on how many exes I have... but some people reached out and said it was really funny and that it was savage [towards my exes]," she said.
Conner says a few of the exes have since contacted her, and that they thought it was pretty funny. "I've only been in one very serious relationship," she said. "It's not worth it for me to look at all the comments and such, these people don't know me or know the joke so I'm not too bothered by it!"
Conner wore the costume out last weekend. She said lots of people laughed and told her the costume was super creative. "I think a few of my exes have gained a few followers as well, which is always a plus in today's world," she said.