Australians are currently losing their minds over a set of collectable toy replicas of supermarket products. The chaos has resulted in $100 eBay listings, dozens of hugely popular Facebook groups, and an insatiable desire to collect them all.
Last month, supermarket giant Coles released a range of miniature versions of popular products it sells, including Vegemite, Finish dishwashing tablets, and Nutella.
The promotion works like this: Shop at Coles, and for every $30 you spend you also receive a random, pre-wrapped miniature "Little Shop" figurine. You don't know which of the 30 possible figurines you've been given until you open the pack.
It all might seem pretty normal and standard — supermarkets have, after all, had promotional giveaways before. But the mania surrounding Coles Little Shop is perhaps a bit much. Listings on eBay have been found for hundreds of dollars. Some individual figurines go for $5 alone, while others (like the miniature OAK milk, which is apparently hard to come by) can go for $20.

eBay is absolutely littered with them.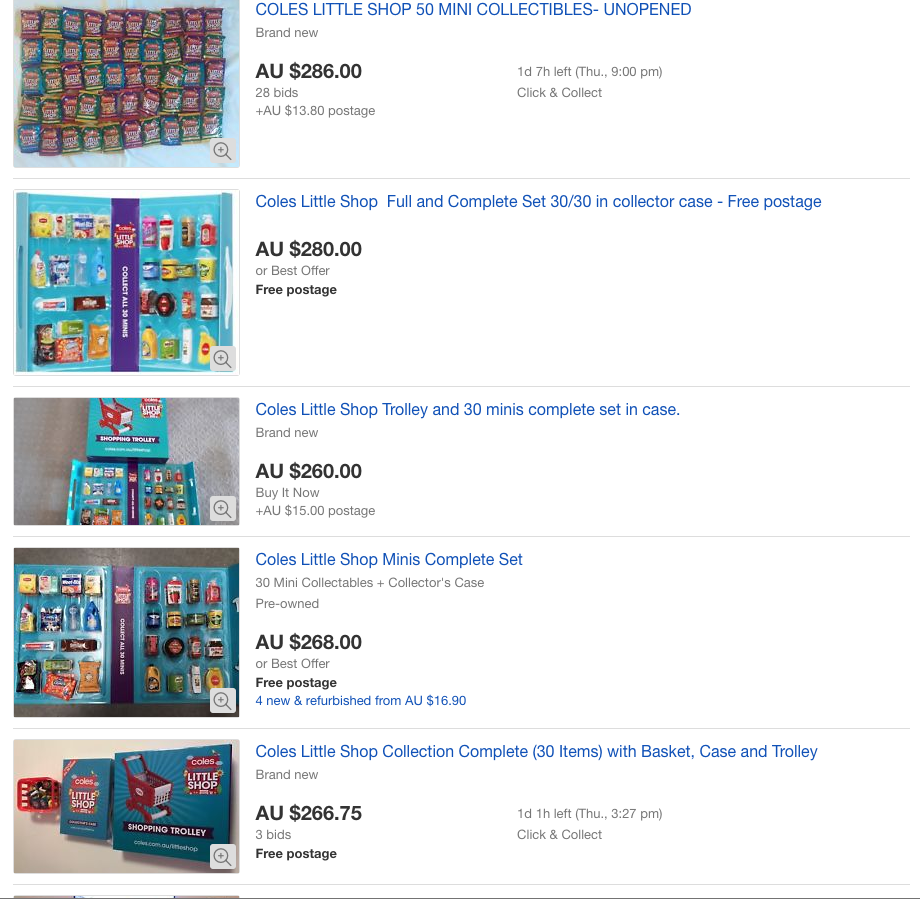 On Facebook, there are dozens of groups (some with over 10,000 members) where people buy, swap, and sell the miniatures.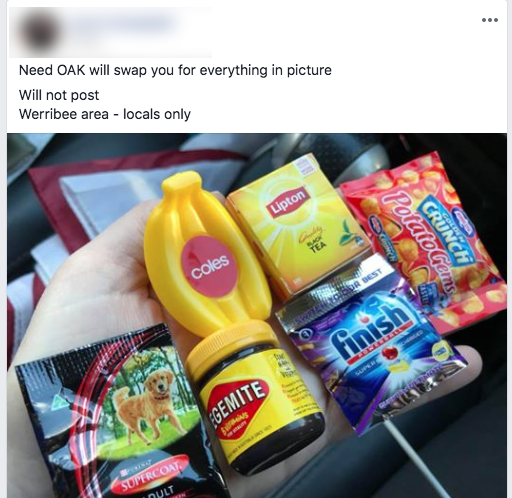 But there's also a divide between whether or not it's ethical to sell the miniatures. Some groups will only allow people to trade them.

And there's even more drama, because some people are upset with Coles after the supermarket chain recently announced it was going to stop using plastic bags (for the environment), which kind of goes against the whole idea of using small little clumps of plastic shaped like groceries in the Little Shop giveaway.
People weren't impressed.
And and and and! A Coles internal document was leaked that reportedly showed higher-ups telling staff they would be reneging on their plastic bag ban — instead giving away reusable plastic bags — because they wanted to get customers through the checkout quicker during the Little Shop giveaway.
Coles has apparently been busier than usual due to the Little Shop chaos. "This means you can focus 100 per cent on serving customers quickly through the registers," said the memo.