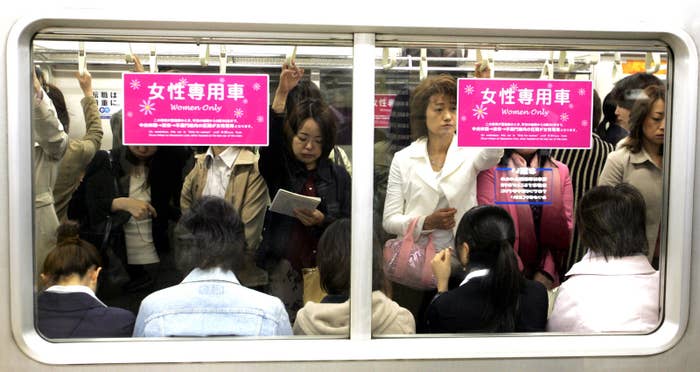 Kumi Sasaki is a 33-year-old Japanese writer who lives in France.

Recently, Sasaki published a book, Tchikan, that dissects the almost daily groping she experienced as a teenager on Japan's train system.
The book was originally published in France last year and is yet to be fully translated into Japanese – but its publication has encouraged a major discussion in Japan regarding sexual harassment on public trains.
In Japan, the term "chikan" is used to describe men who grope women – or other men – on trains. There have been multiple attempts to stop the culture of harassment, including the creation of women-only train carriages, but there are many in Japanese society who refuse to see it as a problem.
Last year, men in Japan began calling for "men-only" carriages to counter the women-only carriages implemented by the country's train service.
On social media, Japanese people have reacted to the book in a number of ways. People have called on Sasaki to stop commuting by train if she's bothered by the harassment, or to "quit bragging" because the groping comes as a result of complicit seduction.
Others have claimed the harassment is a significant problem in Japan. "Although there were men around her, nobody tried to stop the gropers. That's what Japan is," said one Twitter user.

Some blamed the assault culture on a lack of education in Japanese society. "Sex crimes in Japan may be caused by stress, but that's inexplicable," said one Twitter user. "I'm sure that discrimination against women prolongs crimes or secondary harm. I heard that in a country in Africa, sex crimes happened frequently, but when they taught about gender equality, crime decreased by half. Education is important."
And others blamed the "low rank" of women in Japanese society. "When I heard that she had been groped for six years, I thought, 'Why didn't she quit commuting to school by train?'" said a Twitter user in Japan. "But if she had no choice but to use trains due to family matters, then I have second thought; that's a painful experience.

"However, I still have doubts whether the reason gropers attack women is because women are low ranked."

A 2011 report from Japan's National Police Agency found almost 90% of people who have been groped on trains do not report it to police and many women did not know whom or where to consult.