A photo of an elderly Gold Coast man on his way to palliative care has gone viral after paramedics made a quick stop on the way to hospital to grab the man a caramel sundae.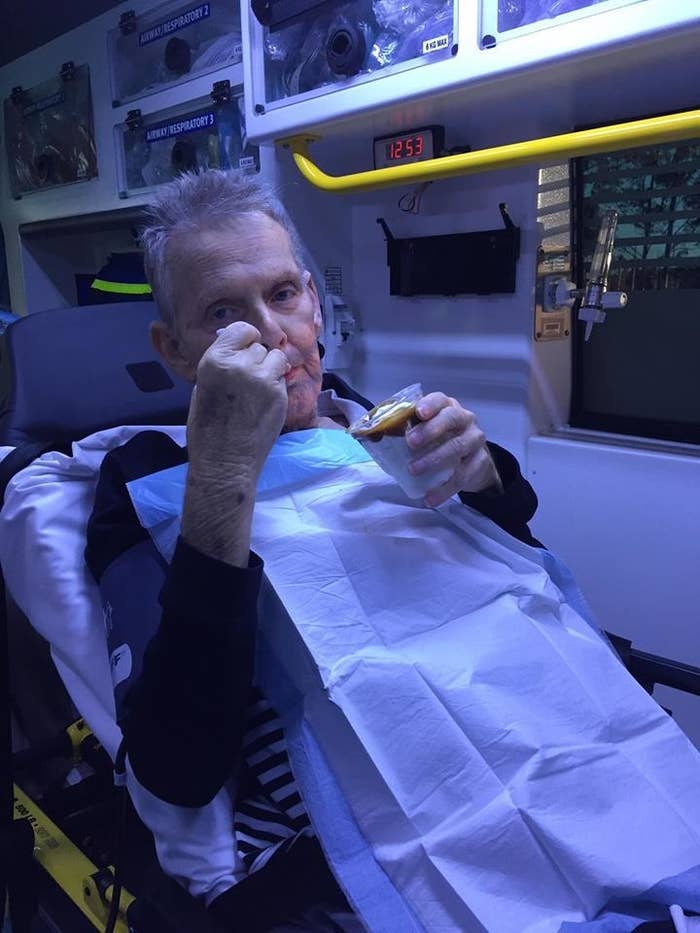 On Tuesday Queensland Ambulance Service posted a photo of Rob McCartney enjoying his caramel sundae. The trip actually happened last week, with the caramel sundae stop-off coming after McCartney had barely eaten the for two days.

"Last week, Gold Coast resident Sharon called an ambulance for her husband Ron's final journey to hospital and palliative care," read the post.

"Paramedics Kate and Hanna responded and during their initial observations of Ron, [Ron's wife] Sharon mentioned that he had barely eaten anything over two days. The officers asked Ron, if you could eat anything … what would it be? To which Ron replied, a caramel sundae."
So far the post has been shared over 1,500 times and has received hundreds of comments.



The story has also gone viral on Twitter, and Ron and Sharon's daughter, Danielle, left a message on Facebook thanking the paramedics for their actions.
"Dad enjoyed this so much and was the last thing he was able to eat by himself," wrote Danielle.
"Mum and I cannot thank Queensland Ambulance Services enough for all the help and compassion you have all given towards us each time we have had to call you, I remember a couple of months ago, the big tall paramedic guy especially, we couldn't get dad out of bed, and couldn't get the gurney near their bed so you picked him up and carried him out the front onto bed.
"Each and every Paramedic we have encountered over the last few months, thank you from mum and I.
"Dad sadly passed away Saturday morning."