Currently in the middle of an El Nino-induced drought, the town is running out of water quickly, and will soon rely on treated bore water.
There have been multiple reports of children suffering from skin infections in recent months, with plenty of speculation about what's causing the illness.
Local doctor Ramu Nachiappan, owner of Nachiappans Surgery in Broken Hill, told BuzzFeed News he believes the skin conditions are occurring as a result of high salt levels in the town's water.
"We're seeing a lot of rashes, no doubt about that," he said. "But in modern society we tend to use a lot of products that create rashes... So when the water condition is poor as well as using these additional agents [this happens]."
Nachiappan said there had been issues with skin conditions in the past, but never as frequently as in the last 12 months.
"I think the water has played a significant part in these skin conditions," he said. "We do have a lot more complaints about skin conditions in the last 12 months.
"The last time this happened about five or six years ago, there were tourists who came in from Melbourne. They got off the plane and got on a coach that took them to a local motel and there were about a dozen of them who had a shower. About three or four of them had to be taken to casualty in the hospital because their skin irritation was so bad that they were red raw."
"This is my 25th year as a doctor in Broken Hill, and I've seen this happen several times."
Nachiappan tells his patients to minimise their exposure to water. "I've encouraged patients not to drink the water and to drink bottled water," he said.
Ultimately, it's something he says was glaringly predictable. "I think if we had better planning [this could have been stopped]."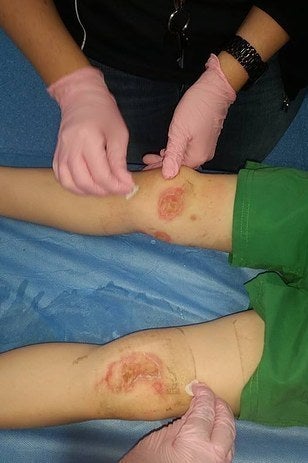 "This was coming along for several years and it's been ignored and it's actually destroying Broken Hill. People are leaving town. People don't want to come to Broken Hill because of the water."
"It's across the board, not just infants, elderly people too."
"Part of the issue is the inability to wash the salt [in the water] away."
"We need to make sure there's adequate quality water for the town and that's a political issue, that's a national issue which we have no control over."
"Many people shower every two or three days, because they get irritated by showering."
"We're living in third world conditions in the country. We're given second class citizenship. What does the future hold? It looks bleak."
Looks like there are no comments yet.
Be the first to comment!