Thousands Of People Are Throwing Themselves Through Tables For This Weird Facebook Club
Men are submitting videos of themselves jumping through glass, wood and plastic tables.
Tens of thousands of people have joined a Facebook group dedicated to the "art of breaking tables".
The Table Breaking Club is a 50,000-strong Facebook group filled with hundreds of user-submitted videos of people hurling themselves through tables.

Originating - obviously - in Australia, many of the group's hundreds of submissions feature alcohol and camping gear. The table-breaking craze is happening a lot at music festivals.
The group was created a year ago, the page's admin "KZ" told BuzzFeed News. It only recently spiked in popularity after youth radio station Triple J mentioned it during a broadcast from the 2016/17 Falls Music Festivals.
"Falls Festival made our page what it is today," he said. "After the founding fathers created a video and uploaded it, we got a shout-out from Triple J and received 15 videos from Falls that day."


It's been a week since the final Falls Festival for 2016/17 finished, and The Table Breaking Club has grown from a few thousand likes to over 50,000.

"I've been sent 50 to 80 videos a day," said KZ. "It's becoming a full-time gig. We're currently looking to get merchandise made."
A few international videos have been submitted, mostly from England and Canada, but the act of table breaking seems to be centred on Australia.
Multiple media outlets have already condemned The Table Breaking Club, with medical professionals and emergency specialists citing injuries including broken noses and large gashes.
KZ said the group hasn't been contacted by authorities (yet) and believes table breaking isn't a new pastime.
"What people don't understand is that it has been happening for years, not just throughout Australia but the world," he said. "The videos that are uploaded are from adults who are smart enough to know that jumping through a table has the possibility of causing harm. This page is just a forum for us to see these videos together and have a bit of a laugh."
The Table Breaking Club is similar to planking, the Australian-created trend that saw people lay themselves horizontally across difficult terrain. In 2011, a man plunged to his death after trying to plank on a balcony.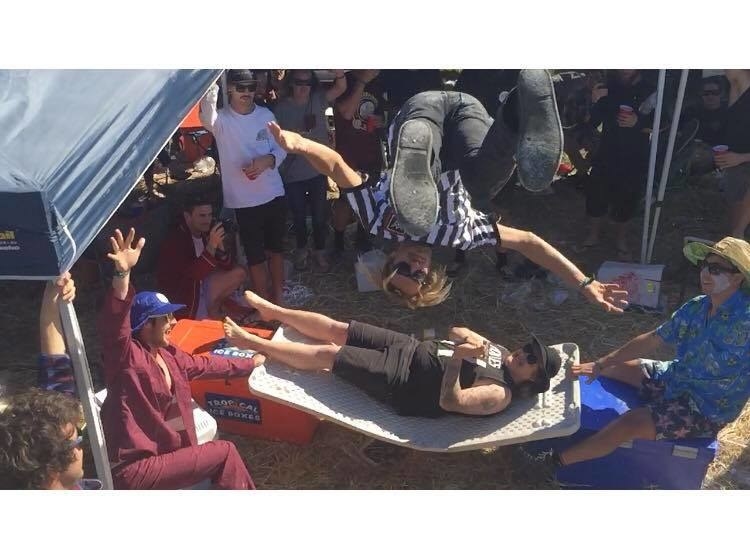 "I'm not going to deny the fact that [someone might die]," said KZ. "People need to know it's been happening prior to this page. A lot of the videos that have been sent in were recorded prior to this page even existing."