This Dirty Old Plastic Bottle Bong Is On Display In A Museum
The item responsible for the shortening of hosepipes across the nation now has its own spot in the Powerhouse Museum.
Sydney's Powerhouse Museum is home to many things. Scientific things, cultural things. All things that are deserving of a spot in a museum... Including this bong: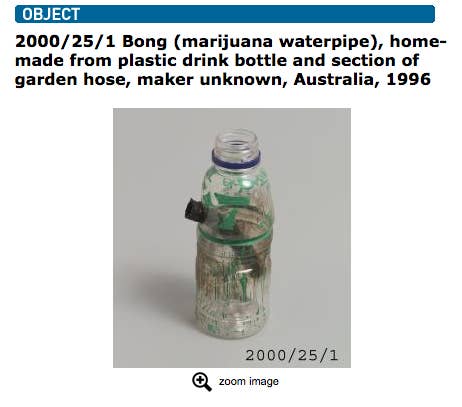 Described as a bong or "marijuana waterpipe" the Orchy-bottle classic has a full description outlining the hosepipe-stuffed bottle's impact on Australia's culture.
The bong actually sits in the Museum of Applied Arts and Sciences, and is currently on display until September as part of an immersive art installation titled "Evidence".
"The MAAS collection contains many examples of objects made by everyday people that reflect regular life outside the hierarchy of formal art and design," a spokesperson told BuzzFeed News.
"This 'bong' or water-pipe is a common variation of home-made bongs made from a plastic drink bottle and a section of garden hose. This kind of disposable bong employs materials that are easily available and inexpensive. It is an example of home-made design and adaptability and the changing attitudes towards smoking marijuana over the past decades."
The Orchy-bottle isn't the only bong in the museum, with this "ceramic bong in form of witch" taking pride of place as well.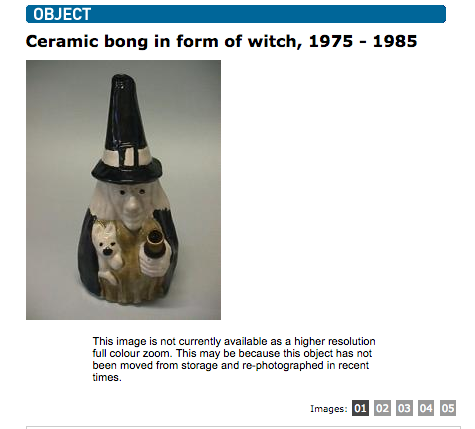 The museum spokesperson did say the MAAS "would not typically collect duplicates," so it's probably best to throw other examples of bong-art you find in your neighbourhood gutter in the trash.