você vai precisar de:
3 claras de ovo, temperatura ambiente
¼ de xícara de açúcar
⅔ de xícara de açúcar de confeiteiro
1 xícara de farinha de amêndoa extra fina
3 gotas de corante alimentício vermelho
Recheio:
230g de cream cheese
1 xícara de açúcar de confeiteiro
2 colheres de sopa de leite
Geleia de morango
Modo de preparo:
1. Preaqueça o forno a 140ºC.
2. Bata as claras em uma tigela média até formar espuma.
3. Continue batendo e adicione lentamente o açúcar até a mistura ficar firme.
4. Peneire o açúcar de confeiteiro e a farinha de amêndoa sobre as claras.
5. Incorpore a mistura seca nas claras, virando a mistura na tigela a cada três mexidas. Tenha cuidado para não misturar demais, caso contrário os macarons não vão crescer.
6. Assim que a massa alcançar uma consistência de lava, transfira metade dela para uma outra tigela e adicione o corante alimentício. Misture até ficar uniforme. Não misture além do necessário!
7. Rapidamente, coloque as massas branca e rosa em sacos plásticos de sanduíche.
8. Corte o canto de cada saco e aperte as duas massas de maneira uniforme em um saco de confeiteiro para criar o efeito multicolorido.
9. Despeje porções com cerca de 4 centímetros em uma assadeira forrada com papel manteiga (Dica: pegue um pouco da massa para "colar" as beiradas do papel manteiga para que fique no lugar.
10. Deixe os biscoitos descansando entre 30 minutos e uma hora, até que não estejam mais úmidos ao toque e uma casca forme na parte de cima.
11. Enquanto o biscoito descansa, prepare o recheio batendo o cream cheese, açúcar de confeiteiro e o leite em uma tigela até ficar uniforme. Transfira a mistura para um saco de confeiteiro e deixe de lado até o momento de colocar o recheio.
12. Quando os biscoitos estiverem secos ao toque, asse por entre 13 e 15 minutos, até que eles tenham crescido e formado a "base".
13. Deixe descansar por 10 minutos antes de colocar o recheio. Para rechear, despeje a mistura com cream cheese formando um círculo em volta da beirada de cada um dos biscoitos e coloque uma pequena porção de geleia no centro. Faça um "sanduíche" com outro macaron.
14. Os macarons ficam mais saborosos se forem mantidos na geladeira até o momento de servir.
15. Agora é só saborear!
Perfeitos!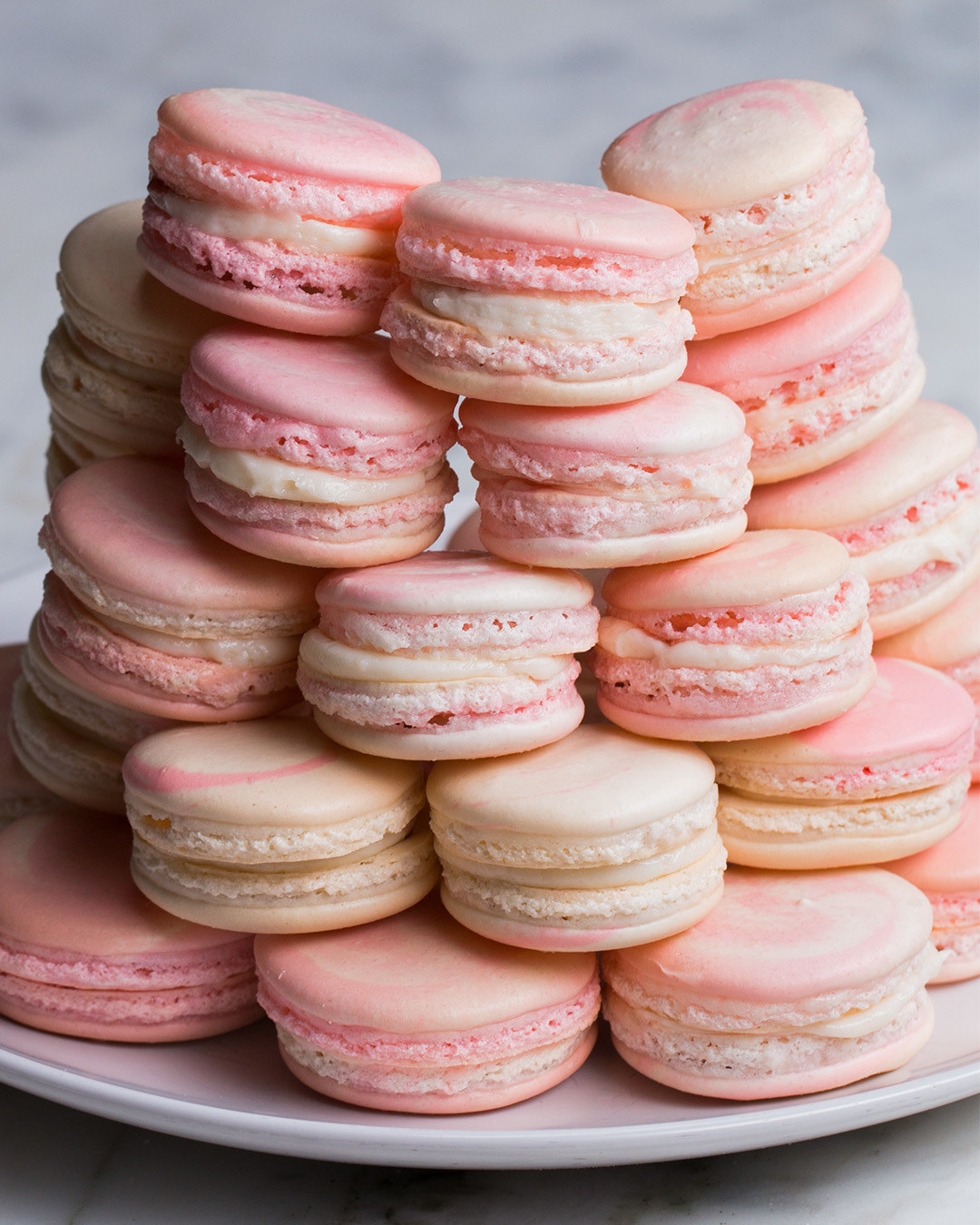 Looks like there are no comments yet.
Be the first to comment!