Candidato a presidente do Senado e investigado pela Lava Jato, o senador Renan Calheiros (MDB-AL) disse que o investigador que coordena a operação em Curitiba, Deltan Dallagnol, parece "um ser possuído". O procurador é evangélico.
Nesta terça (15), Renan escreveu no Twitter: "Deltan Dallagnol continua a proferir palavras débeis, vazias, a julgar sem isenção e com interesse político, como um ser possuído". E ainda marcou a @ do procurador do Ministério Público Federal no Paraná.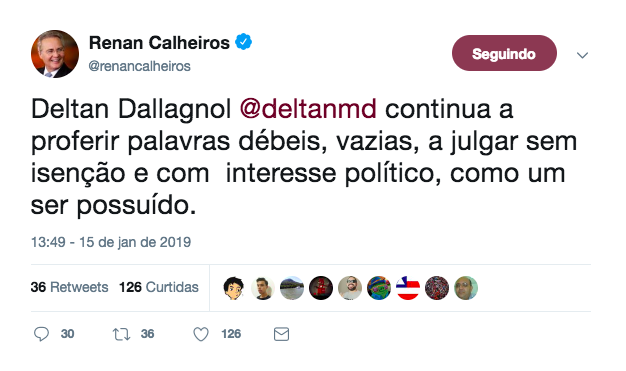 Renan responde a pelo menos sete inquéritos no Supremo Tribunal Federal decorrentes de investigações e delações da Lava Jato.
A briga entre os dois se dá por causa da eleição à presidência no Congresso. Dallagnol está na frente dos que querem alterar as regras para que a votação seja aberta e encabeça um abaixo-assinado pelo voto aberto.
No meio político dá-se como certo que Renan seria beneficiado pelo voto fechado, uma vez que senadores que fazem discurso de defesa da Lava Jato e de renovação na Casa poderiam votar nele sem se expor.
Na semana passada, Dallagnol já havia publicado um post defendendo o voto aberto, que foi negado pelo Supremo Tribunal Federal. Renan decidiu que, com a vitória no STF, não iria responder ao desafeto.
Ontem, Deltan voltou ao tema. Para a assessoria de Renan, o procurador tenta jogar os eleitores de Bolsonaro contra o senador. Assim, Renan foi orientado a responder. Questionado sobre o que queria dizer com "ser possuído", o senador disse a assessores que dependia do entendimento de cada leitor.
Procurado pelo BuzzFeed News, o procurador não quis se manifestar.
Tatiana Farah é Repórter do BuzzFeed e trabalha em São Paulo. Entre em contato com ela pelo email tatiana.farah@buzzfeed.com.
Contact Tatiana Farah at Tatiana.Farah@buzzfeed.com.
Got a confidential tip? Submit it here.
Looks like there are no comments yet.
Be the first to comment!