Essa é Meeiah Tolentino, uma menina de 16 anos do Alaska, e sua irmãzinha Rain, de 3.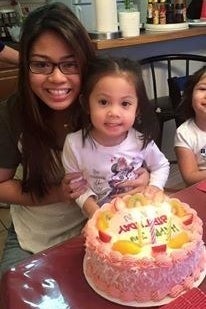 Como muitas irmãs mais novas, Rain ama seguir sua irmã e tem muita curiosidade sobre o mundo, disse Meeiah ao BuzzFeed News.
"Ela ama seguir todos da família por aí," ela disse. "Quer dizer, ela tem 3 anos - crianças pequenas são curiosas."
Alguns dias atrás, Meeiah menstruou e foi ao banheiro. Ela disse que estava com pressa, e não se preocupou em ver se a porta estava inteiramente fechada.
Rain inocentemente seguiu sua irmã até o banheiro e recebeu uma lição chocante sobre a vida feminina. Ela pirou, e pensou que sua irmã estava morrendo.
Meeiah disse que Rain só ficou por alguns segundos antes de sua prima a tirar de lá, mas que imediatamente começou a chorar.
"Eu fui para o meu quarto, e a vi berrando." ela disse. "Ela estava gritando, 'Você precisa ir ao médico,' e 'Você vai morrer porque você está sangrando!"
Meeiah capturou sua reação em um vídeo para mostrar à família, mas depois abraçou a irmã e garantiu que estava bem.
"Eu até deixei ela fingir ser médica para me curar," ela disse. "Dois minutos depois do vídeo, ela esqueceu o que tinha acontecido e voltou à sua vida normal e feliz."
Meeiah compartilhou o vídeo no Twitter "para fazer umas pessoas rirem", e desde então ele foi retuitado mais de 70 mil vezes. Muitas pessoas disseram que eles ou seus irmãos tiveram reações similares à realidade feminina.
Meeiah disse que foi estranho ver sua irmãzinha espalhada pela rede social, mas a maioria das reações foi positiva.
"Algumas entendem completamente a reação da minha irmã quando estão menstruadas," ela disse.
Ela completou que sua família também ficou chocada com a reação do vídeo.
"Meus pais ficaram muitos surpresos que o vídeo se espalhou tanto... Mas acharam engraçado, e agora estão a tratando como estrela de cinema," ela disse. "É surpreendente para todos que o vídeo se tornou viral."
Looks like there are no comments yet.
Be the first to comment!