O referendo para decidir se o Reino Unido deveria deixar a União Européia dividiu a Grã-Bretanha de diversas maneiras, mas uma das mais evidentes foi com relação a idade dos eleitores. Dentre as pessoas com idade entre 18 e 24 anos, 75% votaram pela Permanência, contra 39% das pessoas com mais de 65 anos.
Quase dois terços das pessoas com mais de 60 anos votaram pela Saída da UE, enquanto a maioria das pessoas com menos de 49 anos apoiou a Permanência, de acordo com as pesquisas de intenção de voto. Três quartos das pessoas com idade entre 18 e 24 anos votaram pela Permanência.
Esse é, claramente, um conflito de gerações.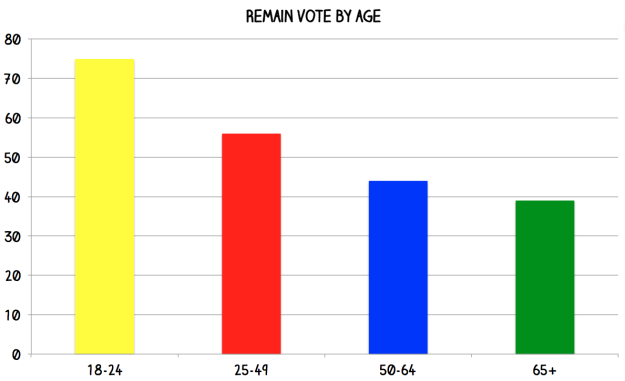 Os eleitores mais jovens, defensores da Permanência, sentem-se traídos e estão muito irritados com a situação.
Alguns jovens estão tomando medidas drásticas.
É uma situação muito desconfortável.
As noções que as pessoas tinham sobre as gerações acabou virando de ponta cabeça.
Alguns argumentaram que, após curtirem os Beatles e os anos 1960, os baby boomers poderiam pensar em fazer algo de bom para a juventude moderna.
A banda britânica Stooshe entrou no debate, afirmando o seguinte:
Adolescentes entre 16 e 17 anos de idade ficaram chateados porque não puderam votar, mas agora terão de viver com as consequências da saída da Grã-Bretanha da UE.
Mas, como sempre, nada é tão simples assim.
Alguns eleitores mais velhos disseram que votaram pela Saída para ajudar a geração mais nova.
Looks like there are no comments yet.
Be the first to comment!