Você vai precisar de:
1 xícara de tomate cereja fatiado
1 xícara de cenoura ralada
1 xícara de pimentão amarelo picado
1 xícara de cebola picada
1 xícara de aspargo picado
450g de camarão
Azeite de oliva
Pimenta chili em pó
Orégano
Sal
Pimenta
Suco de limão
Uma quantidade grande de hortaliças diversas
Molho Vinagrete com Limão e Chili:
3 colheres de sopa de suco de limão
2 colheres de sopa de azeite
1 colher de sopa de mel
½ colher de sopa de chili em pó
Sal a gosto
Pimenta a gosto
Modo de preparo:
1. Preaqueça o forno a 200˚C.
2. Coloque os vegetais picados em uma travessa coberta com papel manteiga. Regue com o azeite e salpique com temperos de sua preferência. Deixe assando por 10 minutos.
3. Mova os vegetais para as bordas da travessa e abra um espaço no meio para que os camarões fiquem em uma camada só. Regue com azeite. Tempere e use suco de limão a gosto. Cozinhe por cerca de 5 a 8 minutos, até o camarão ficar bem cozido. Cuidado para não passar do ponto.
4. Misture os ingredientes do molho em uma tigela.
5. Em uma tigela grande de salada, misture as hortaliças, o camarão, os vegetais e o molho vinagrete.
6. Sirva e bom apetite!
Porções: 2
Tão colorido!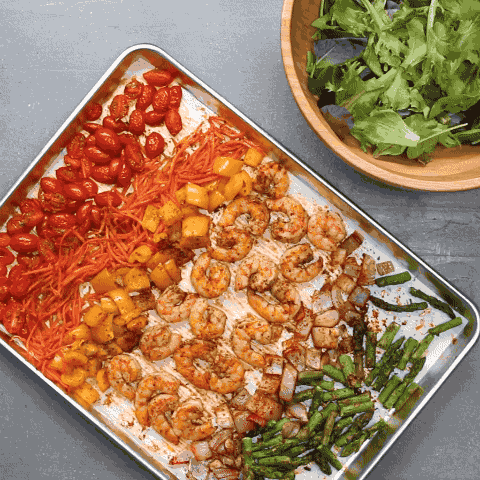 Looks like there are no comments yet.
Be the first to comment!