Você vai precisar de:
Para as panquecas:
2 gemas de ovo
2 claras de ovo, em neve
3 colheres de sopa de açúcar
1 1/3 xícara de leite (mais se a massa estiver muito grossa)
3 colheres de sopa de manteiga derretida
1 colher de sopa de extrato de baunilha
1 1/2 xícara de farinha
1/4 de xícara de cacau em pó
2 1/2 xícaras de fermento em pó
100 g de chocolate picado
1 colher de sopa de manteiga ou óleo de cozinha
Para o ganache de chocolate:
1 xícara de creme de leite
250g de gotas de chocolates
Servir com um punhado de framboesas
PREPARO
1. Em uma tigela grande, misture as gemas e o açúcar. Adicione o leite aos poucos.
2. Misture delicadamente as claras com uma colher.
3. Adicione e misture a manteiga derretida com a baunilha.
4. Em uma outra tigela grande, misturar a farinha peneirada, cacau em pó e o fermento.
5. Faça um pequeno buraco no meio e coloque a mistura dos ovos com leite. Incorpore até a massa ficar uniforme.
6. Misture o chocolate picado. Deixe a massa descansar por 15-20 minutos.
7. Para fazer a ganache, aqueça o creme de leite, sem deixar ferver.
8. Tire do fogo, adicione as gotas de chocolate ao creme e mexa até uniforme.
9. No fogo de baixo, coloque 1/4 de xícara da massa de panqueca em uma frigideira untada.
10. Quando começar a formar bolhas na superfície, vire e cozinhe por mais um minuto do outro lado.
11. Quando as panquecas estiverem prontas, derrame a ganache de chocolate por cima (se a ganache tiver endurecido durante o preparo das panquecas, você pode aquecer no micro-ondas por 15-20 segundos).
12. Enfeite com framboesas. Aproveite!
Inspirada na receita de Bobby Flay.
Olha isso!!!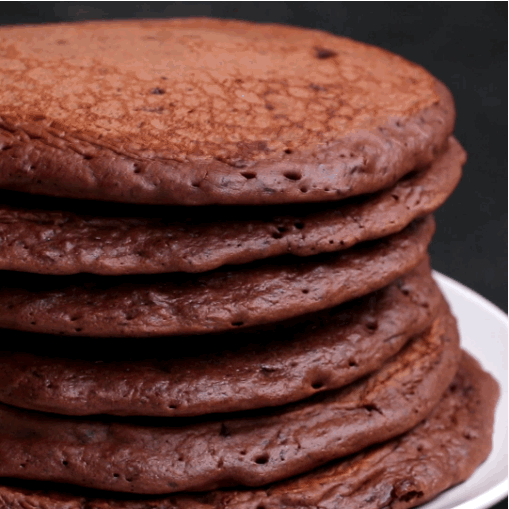 Looks like there are no comments yet.
Be the first to comment!