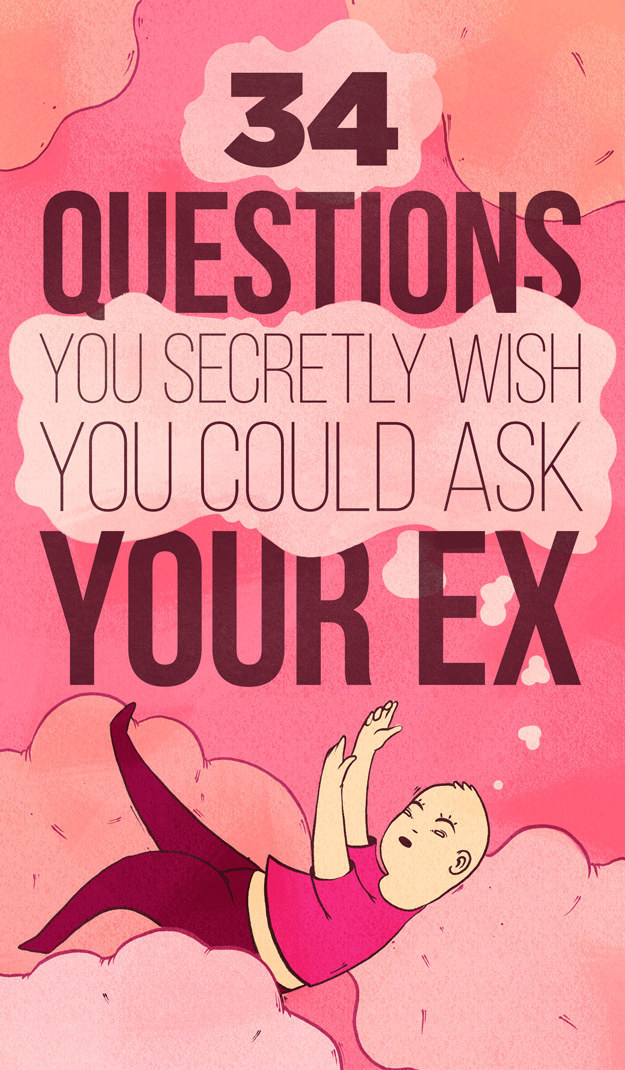 1. Você me amava?
2. Em algum momento, você chegou a acreditar que ficaria comigo para sempre?
3. Você me traiu?
4. Quantas vezes?
5. Por quê?
6. Você conversava com o seu/a sua ex enquanto estava comigo?
7. Alguma vez eu fiz algo que te deixou com ciúmes?
8. Qual é o seu maior arrependimento sobre o nosso relacionamento?
9. Qual foi a pior coisa que você fez comigo?
10. O que você realmente achava dos meus amigos?
11. Sério, fala a verdade.
12. Qual é a sua lembrança favorita da época em que estávamos juntos?
13. O que você mais gostava em mim?
14. O que você menos gostava em mim?
15. Você estava satisfeito(a) com a nossa vida sexual?
16. O que você teria feito diferente?
17. Você ainda pensa em mim?
18. Com que frequência?
19. Você pensa em mim quando está fazendo sexo?
20. Ou eu apareço na sua mente quando você está se masturbando?
21. Você acha que nós poderíamos ter resolvido os nossos problemas?
22. Você gostaria de resolvê-los agora?
23. Quando você curte os meus posts no Instagram e no Facebook e favorita meus tweets, você está flertando comigo ou tentando me perturbar?
24. Você por acaso tem um alarme que avisa quando eu não estou pensando em você e é por isso que decide me mandar mensagens nesses momentos?
25. O que você disse ao seu novo par sobre mim?
26. Você ainda fala de mim para os seus amigos?
27. Os seus amigos me odeiam?
28. Você ainda guarda os presentes que eu te dei?
29. Alguma música ou programa de TV te fazlembrar de mim?
30. O que você pensa de mim agora?
31. O que você realmente acha do meu corpo?
32. Você acha que, entre nós dois, você era quem mais ganhava por estar com alguém como eu, ou era eu que ganhava mais por estar com você?
33. Se você pudesse me dizer qualquer coisa, o que você diria?
34. Você gostaria que ainda estivéssemos juntos?
Looks like there are no comments yet.
Be the first to comment!