É assim que conhecemos a Onze de "Stranger Things": com a cabeça raspada e sendo bem durona.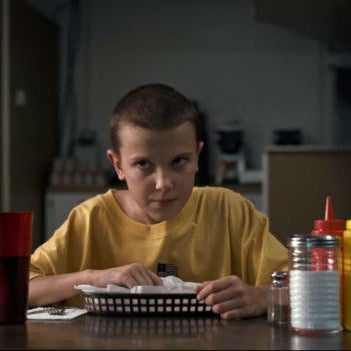 Mas não deve ser nenhuma surpresa que Millie Bobby Brown, a incrível atriz que interpreta a personagem, nem sempre teve cabelos curtos.
Para falar a verdade, é assim que ela estava quando encontrou Caleb McLaughlin (Lucas), no primeiro dia no set de gravações.
Ela concordou em raspar seus longos fios quando aceitou o papel.
Millie disse ao site Vulture:
Eu tinha o cabelo bem comprido e cortei tudo para o papel. Eu li o roteiro e fiquei tão feliz com a minha personagem que acabei pensando: É assim que tem que ser. Minha mãe e meu avô estavam tipo: 'Não, você não pode fazer isso'. Levei 12 anos — bem, 11 anos — para deixar crescer alguma coisa. [Meu cabelo] não era cheio, mas era comprido. E então eles rasparam tudo e foi bem difícil para os meus pais. Mas eu os convenci. Eu estava: 'Ele cresce de volta. Está tudo bem'.
Recentemente, a atriz compartilhou o vídeo do momento em que muda completamente seu visual.
Dá para ver suas emoções aflorando durante o processo.
Como vocês podem ver, ela estava bem apreensiva quando eles cortaram a última mecha de cabelo comprido. Ela levou um tempinho para se acostumar. Mas logo depois já incorporou a Onze. Obrigado por compartilhar o vídeo, Millie!
Looks like there are no comments yet.
Be the first to comment!