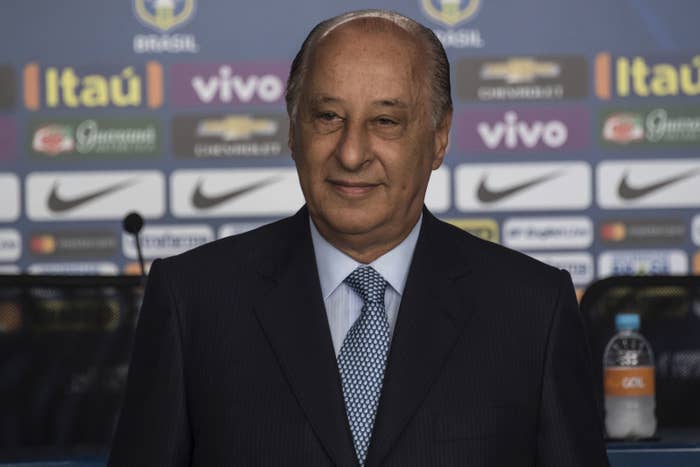 Um código com referência ao nome do presidente da Confederação Brasileira de Futebol (CBF), Marco Polo Del Nero, foi apontado como destinatário de um pagamento de US$ 1 milhão no julgamento do caso Fifa.

A acusação partiu de Eladio Rodriguez, ex-dirigente da empresa argentina Torneos, que cuidava dos direitos de eventos como Copa Sul Americana e Libertadores.
Ele é delator no julgamento do caso Fifa e depõe nesta quinta-feira (30) em Nova York.
Rodriguez já havia citado Marco Polo, junto com José Maria Marin, como destinatário de dois pagamentos, de US$ 900 mil e US$ 3 milhões.
Agora, ele levou à Justiça informações sobre um terceiro pagamento, dessa vez apenas para "Brazilian MP".
O valor, segundo o delator, refere-se à Copa América de 2015.
No julgamento, foi anexado ainda um e-mail do delator com várias tarefas, em 2013. Uma delas era acertar a transferência de dinheiro para Marco Polo.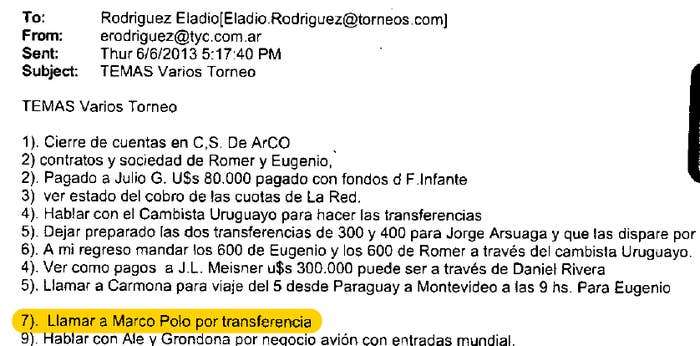 O delator primeiro anotou o valor como US$ 2 milhões e depois como US$ 1 milhão pago.

Nesta quarta-feira, quando Rodriguez fez as primeiras acusações contra Marco Polo, seu advogado fez duras críticas ao delator.
"É um depoimento inseguro, movediço. Não merece credibilidade e não é verdade. Marco Polo não recebeu qualquer valor. Se recebeu, quando? Qual a conta? Qual banco? Uma acusação dessa só deveria vir a público com essas informações. Porque falar é grátis, pode falar qualquer coisa", disse o advogado José Roberto Batochio.

Veja também:
Ken Bensinger is an investigative reporter for BuzzFeed News and is based in Los Angeles. He is the author of "Red Card," on the FIFA scandal. His secure PGP fingerprint is 97CC 6E32 10A2 23FE 4E84 98B4 9CFF 4214 9D26 8AA7
Contact Ken Bensinger at ken.bensinger@buzzfeed.com.
Got a confidential tip? Submit it here.