Você vai precisar de:
3 colheres de sopa de azeite de oliva
750g de peito de frango
1/2 cebola, picada
Sal, a gosto
Pimenta, a gosto
2 xícaras de cogumelo champignon
3 dentes de alho, picados
1 colher de sopa de tomilho
2 colheres de sopa de páprica
4 xícaras de caldo de frango
1 xícara de creme de leite
500g de farfalle (macarrão borboleta)
150g de espinafre
1 xícara de queijo parmesão
Modo de preparo:
1. Em uma panela grande e em fogo médio, aqueça as 2 xícaras de azeite. Adicione o frango até que esteja dourado, certificando-se de que também esteja cozido por dentro. Reserve o frango.
2. Adicione mais 1 colher de sopa de azeite de oliva e a cebola na panela. Mexa. Deixe cozinhar entre 1 e 2 minutos.
3. Adicione o champignon e o alho; e mexa para que se misturem com a cebola. Salpique o sal e a pimenta a gosto, assim como o tomilho e a páprica. Mexa para que fixe o tempero.
4. Adicione o caldo de frango e o creme de leite à panela e mexa. Deixe que ferva, e então adicione o farfalle (macarrão borboleta).
5. Cozinhe de acordo com as instruções da embalagem, certificando-se de mexer a cada 1 ou 2 minutos, evitando que o macarrão grude. (O período de cozimento poderá ser um pouco mais longo nesta receita do que quando o macarrão é cozido na água.)
6. Quando o macarrão estiver al dente, adicione o espinafre e o frango. Mexa até que o espinafre cozinhe e se incorpore à receita. Adicione o queijo parmesão e mexa até que esteja incorporado à receita, tornando-se um molho suave.
7. Salpique com mais queijo parmesão.
8. Aproveite!
Porções: 4
Saborosíssimo.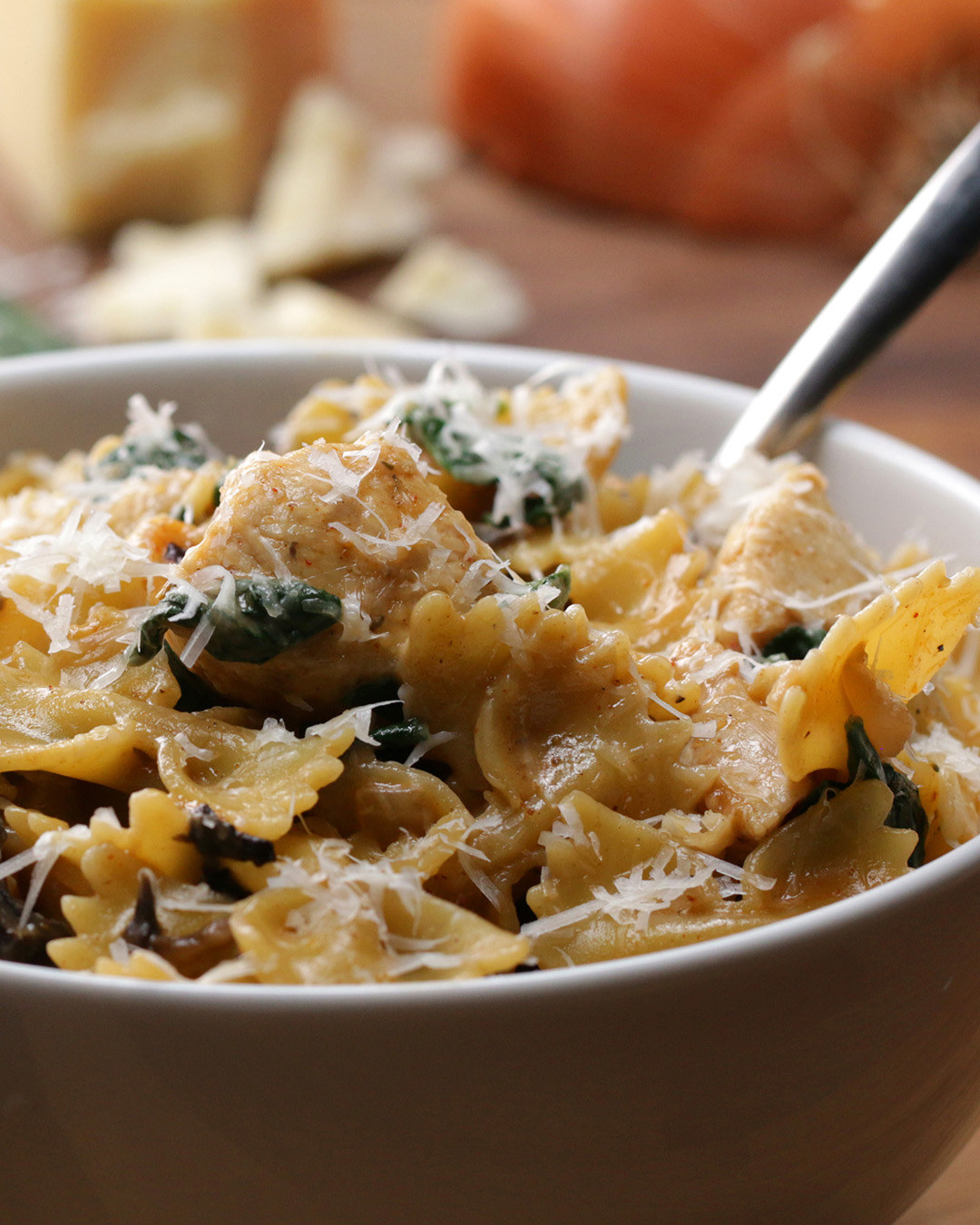 Looks like there are no comments yet.
Be the first to comment!