Você vai precisar de:
- 2 colheres de sopa de azeite
- 1/2 cebola picada
- 1 cenoura picada
- 1 salsão picado
- 3 dentes de alho picados
- 450g de carne moída
- 2 colheres de sopa de extrato de tomate
- 800ml de molho de tomate
- 1 colher de sopa de orégano
- 1 folha de louro
- 300g de macarrão cozido
Modo de preparo:
1. Refogue a cebola, a cenoura e o salsão no azeite até ficarem macios.
2. Adicione o alho picado, a carne moída e tempere com sal e pimenta.
3. Cozinhe bem a carne.
4. Adicione o extrato de tomate e cozinhe por 2-3 minutos, para caramelizar a carne.
5. Adicione o molho de tomate, o orégano e a folha de louro, misturando bem.
6. Deixe cozinhar no fogo baixo por 30 minutos, com a tampa entreaberta.
7. Adicione o macarrão cozido e misture bem, aproveite!
Que delícia!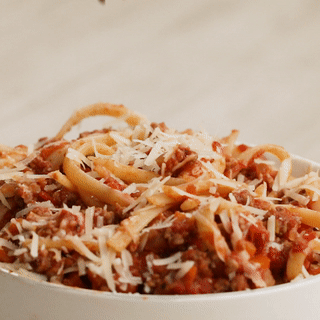 Looks like there are no comments yet.
Be the first to comment!