Você vai precisar de:
Panquecas
1 xícara de ricota
2 gemas de ovo
3/4 de xícara de leite
1 colher de chá de essência de baunilha
2 colheres de sopa de raspas de limão
1 xícara de farinha de trigo
1½ colher de sopa de fermento em pó
Geleia de mirtilo
2 xícaras de mirtilo
½ xícara de açúcar
1/2 xícara de água
1 colher de sopa de suco de limão
Modo de preparo:
1. Em uma tigela grande, misture a ricota, gema de ovo, leite, essência de baunilha e as raspas de limão. Bata até ficar homogêneo, então adicione a farinha de trigo e o fermento. Mexa até ficar com uma textura totalmente homogênea.
2. Em uma tigela separada, bata as claras de ovo em alta velocidade com um mixer elétrico até que fiquem bem brancas e espumosas, acrescentando açúcar aos poucos. Continue batendo em alta velocidade até que se formem pontas firmes.
3. Suavemente cubra a mistura de ricota e limão com ¼ das claras de ovo. Esparrame suavemente o restante das claras. Cuidado para não esvaziar os ovos!
4. Passe manteiga em uma panela que não grude e despeja cerca de ¼ da massa para cada panqueca.
5. Cozinhe por 2-3 minutos de cada lado ou até que as bordas fiquem douradas.
6. Em uma frigideira ou panela, cozinhe os mirtilos, açúcar, água e o suco de limão. Mexa de tempo em tempo para evitar que grude e cozinhe por aproximadamente 8-10 minutos, ou até que a geleia tenha uma consistência espessa. (A geleia vai engrossar quando esfriar, e para soltar basta adicionar um pouco de água quente.)
7. Sirva a geleia quente sobre uma pilha de panquecas e polvilhe com açúcar refinado.
8. Aproveite!
Hmmmmm!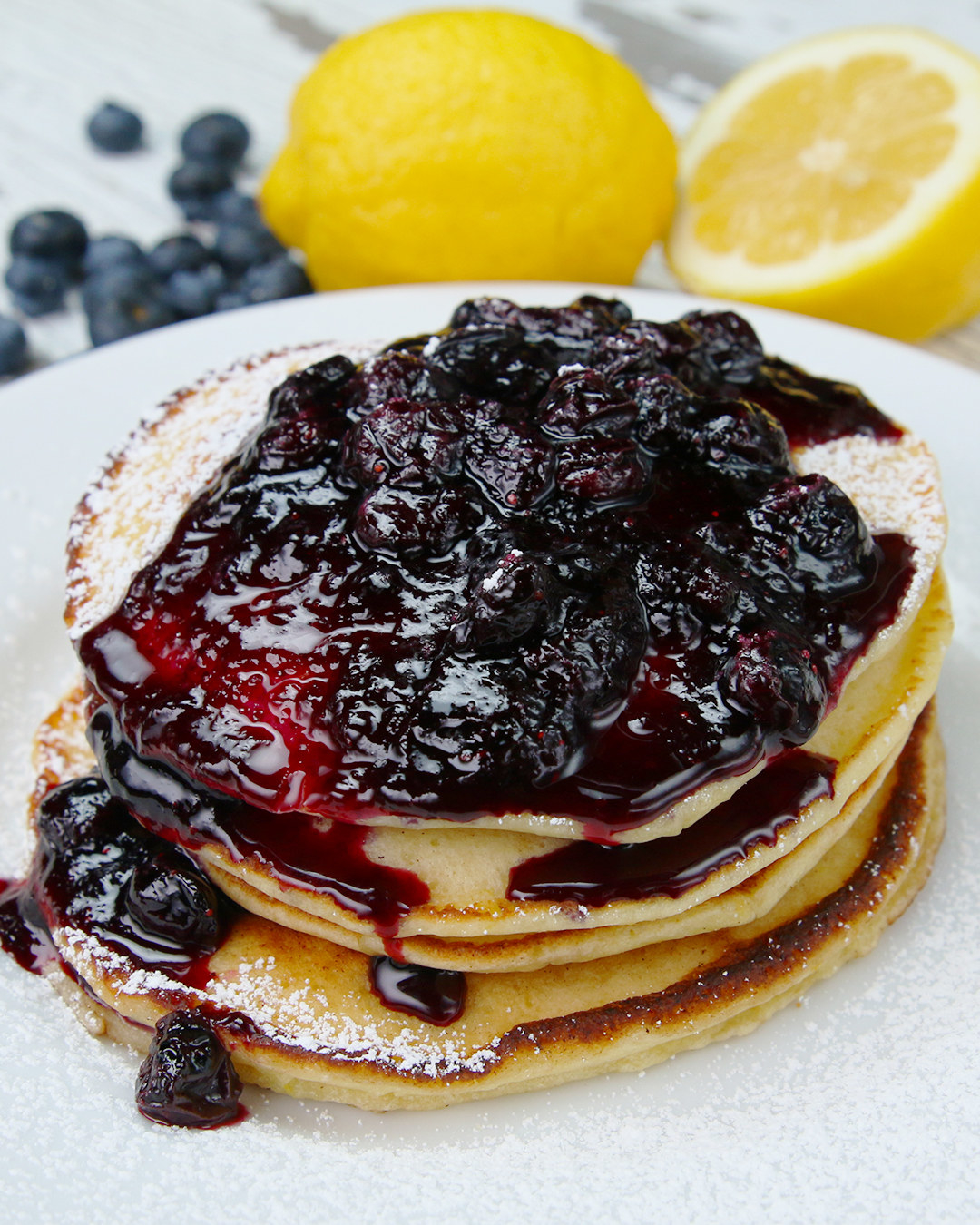 Looks like there are no comments yet.
Be the first to comment!