Você vai precisar de:
Para os crepes:
6 colheres de sopa (100 gramas) de manteiga
3 xícaras (675 mililitros) de leite
6 ovos
1½ xícara (210 gramas) de farinha
⅔ de xícara (80 gramas) de cacau em pó
7 colheres de sopa (105 gramas) de açúcar
4 xícaras (1 litro) de chantili
Para o ganache:
1 xícara (225 mililitros) de creme de leite
4 colheres de sopa (200 gramas) de açúcar
170 gramas de chocolate
1 colher de sopa (15 gramas) de manteiga
¼ de xícara (40 gramas) de açúcar de confeiteiro, opcional para a cobertura
Modo de preparo:
1. Faça os crepes aquecendo a manteiga até derreter e deixando que ela doure levemente. Reserve.
2. Na mesma panela, aqueça o leite. Retire do fogo.
3. Em uma tigela, misture a farinha, o cacau em pó e o açúcar. Acrescente os ovos, em seguida, acrescente gradualmente a manteiga e o leite morno. Deixe esfriar.
4. Em uma frigideira antiaderente em fogo médio, coloque ¼ de xícara da massa do crepe, e incline a panela para cobrir toda a superfície do fundo. Cozinhe até que a superfície de baixo do crepe comece a dourar e, em seguida, vire. Repita até usar toda a massa do crepe. Deixe os crepes esfriarem.
5. Empilhe os crepes uns sobre os outros, com chantili entre cada camada. Quando estiver montado, apare as bordas para um visual mais limpo, se desejar.
6. Para o ganache, ferva o creme de leite e o açúcar, e acrescente o chocolate e a manteiga. Deixe esfriar e espalhe sobre o bolo de crepe.
7. Cubra com açúcar de confeiteiro peneirado (opcional).
8. Aproveite!
Porções: 8
Incontáveis e deliciosas camadas!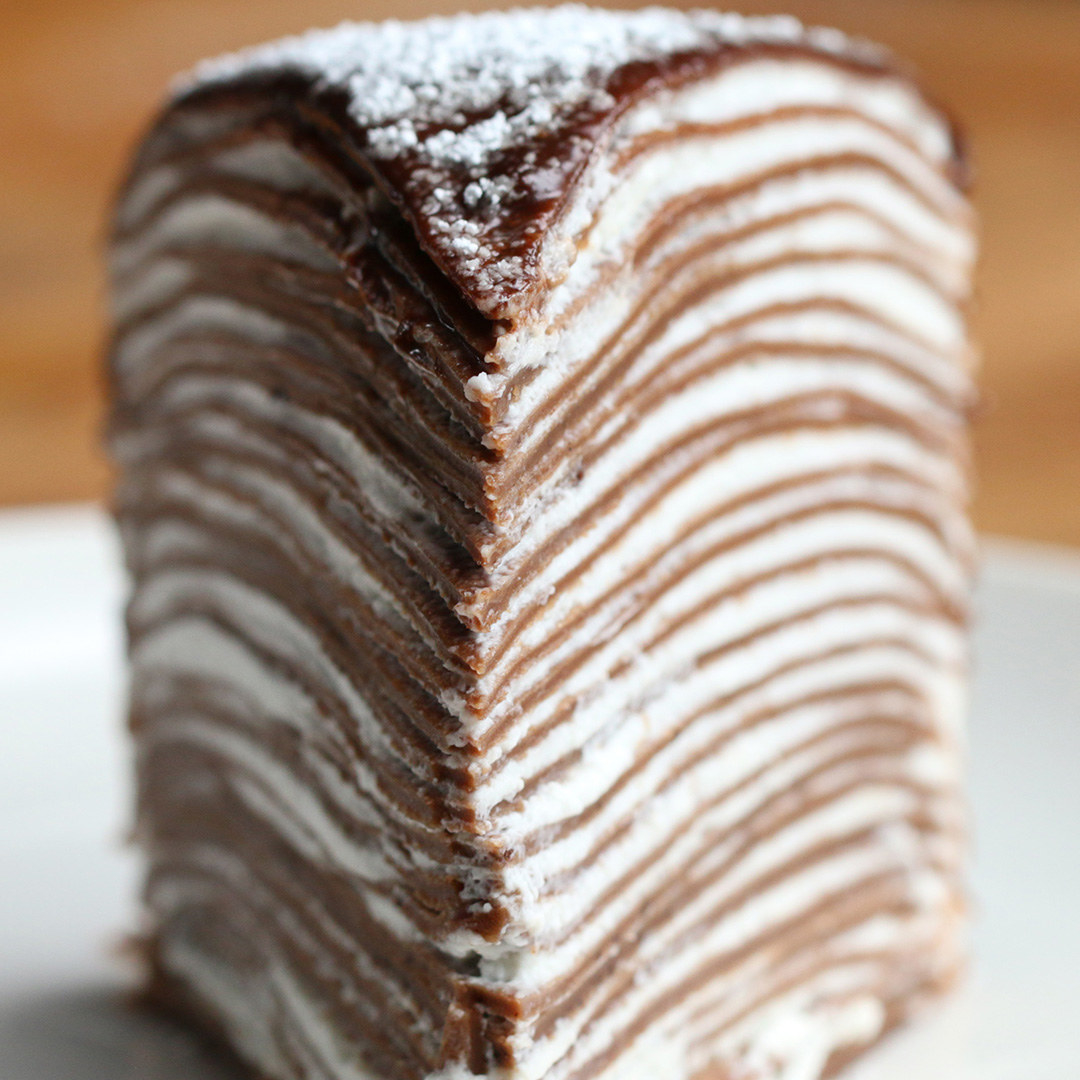 Looks like there are no comments yet.
Be the first to comment!