Você vai precisar de:
3 colheres de sopa de azeite de oliva
1 cebola média fatiada
5 tiras de bacon em cubinhos
230 gramas de cogumelos fatiados, do tipo porcini ou shiitake, por exemplo
1½ xícara de arroz arbóreo
½ xícara de vinho branco seco, como sauvignon blanc
5 xícaras de caldo de frango
½ xícara de queijo parmesão e um pouco mais para decorar depois
Modo de preparo:
1. Em uma panela grande e pesada, aqueça o azeite de oliva em fogo médio.
2. Adicione a cebola e refogue por 3 ou 4 minutos, até ficar macia e levemente transparente.
3. Acrescente o bacon e mexa constantemente. Quando o bacon estiver crocante, acrescente os cogumelos e cozinhe por mais dois minutos.
4. Adicione o arroz arbóreo e cozinhe por um minuto, mexendo bem para que o azeite se misture com os grãos.
5. Adicione o vinho branco e deixe ferver por 2 ou 3 minutos, mexendo de vez em quando.
6. Adicione uma xícara de caldo de frango e ferva em fogo médio por 5 minutos, mexendo de vez em quando.
7. Quando o arroz tiver absorvido boa parte do líquido, adicione mais uma ou duas xícaras de caldo até que o líquido seja absorvido e o arroz esteja cozido, o que deve levar entre 25 e 30 minutos no total. (O risoto deve estar al dente e caindo sobre si mesmo ao passar a colher no fundo da panela.)
8. Acrescente o queijo parmesão e tire do fogo.
9. Sirva quente e aproveite!
Porções: 4-6
Bateu uma fome!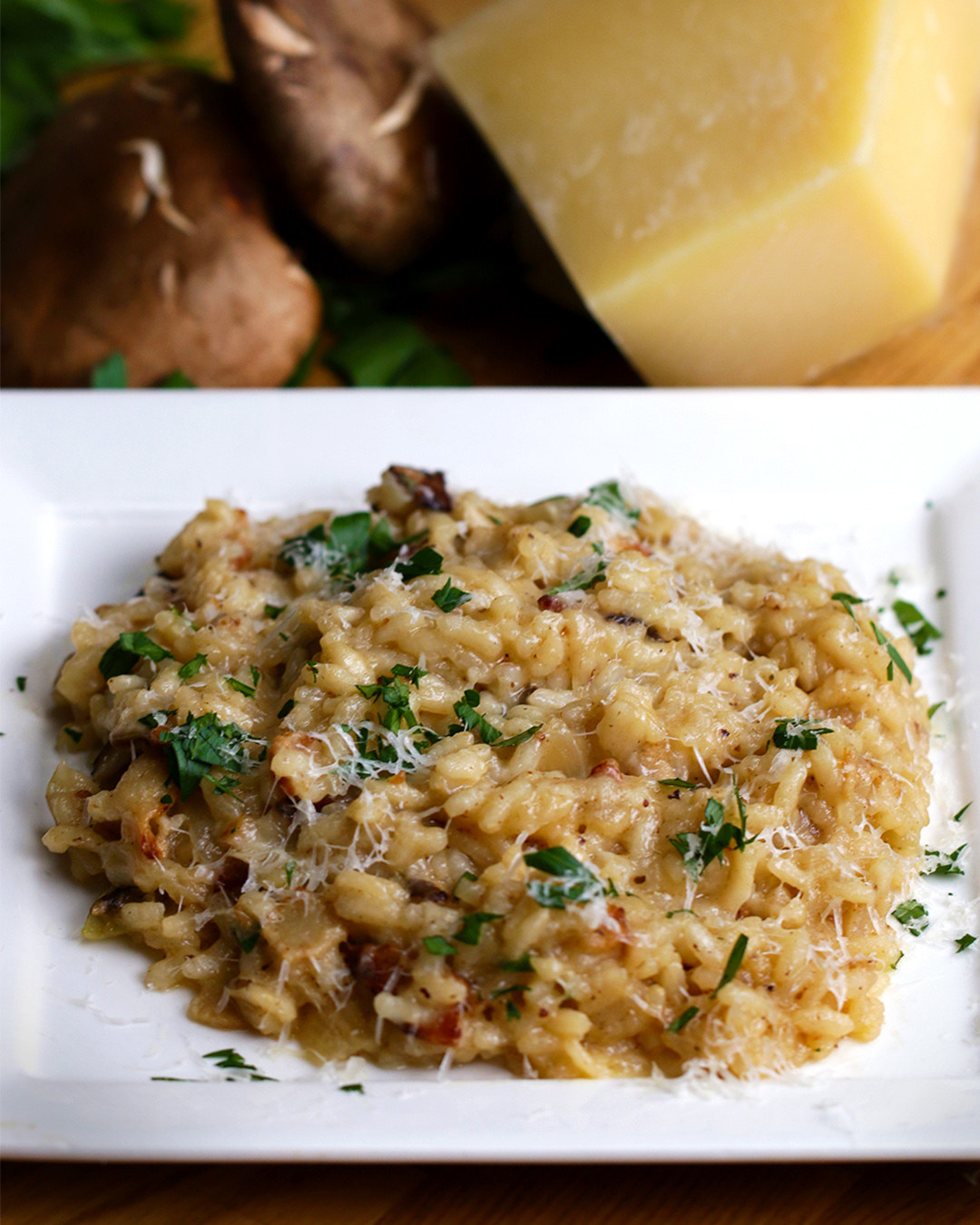 Looks like there are no comments yet.
Be the first to comment!