Você vai precisar de:
Massa
1 ½ xícaras de farinha de trigo
½ xícara de amido de milho
1 ½ xícaras de leite
½ xícara de óleo
3 ovos
1 xícara de parmesão
1 colher de sopa de fermento em pó
Recheio
3 colheres de sopa de azeite
1 xícara de pimentão picado
½ xícara de cebola picada
¼ xícara de azeitona picada
400g bacalhau dessalgado e desfiado
Pimenta a gosto
½ limão espremido
1 xícara de tomate picado
200g muçarela
¼ xícara salsinha
Para decorar
¼ xícara de salsinha
½ xícara de parmesão
Modo de preparo:
1. Primeiro dessalgue o seu bacalhau. Coloque-o em um tigela com água na geladeira por pelo menos uma noite. Desfie, remova os possíveis espinhos e reserve.
2. Em uma panela, coloque o azeite, pimentão picado, cebola, azeitona, bacalhau dessalgado, pimenta e o limão espremido. Misture até a cebola e o pimentão ficarem cozidos. Reserve.
3. Preaqueça o forno 180ºC.
4. Em um liquidificador coloque os ovos, leite, óleo, parmesão, farinha de trigo, amido de milho e fermento em pó. Bata por alguns minutos até ficar bem homogêneo.
5. Em uma travessa untada, despeje metade da massa.
6. Cubra com o recheio de bacalhau. Salpique o tomate, muçarela, salsinha e cubra com a outra metade da massa.
7. Salpique parmesão e salsinha sobre a massa e leve ao forno por 45 minutos.
8. Aproveite!
Dica:
Esta torta foi feita para uma travessa de 20x20cm. Se fizer em uma maior, é só dobrar a receita.
Aôoo torta boa!!!!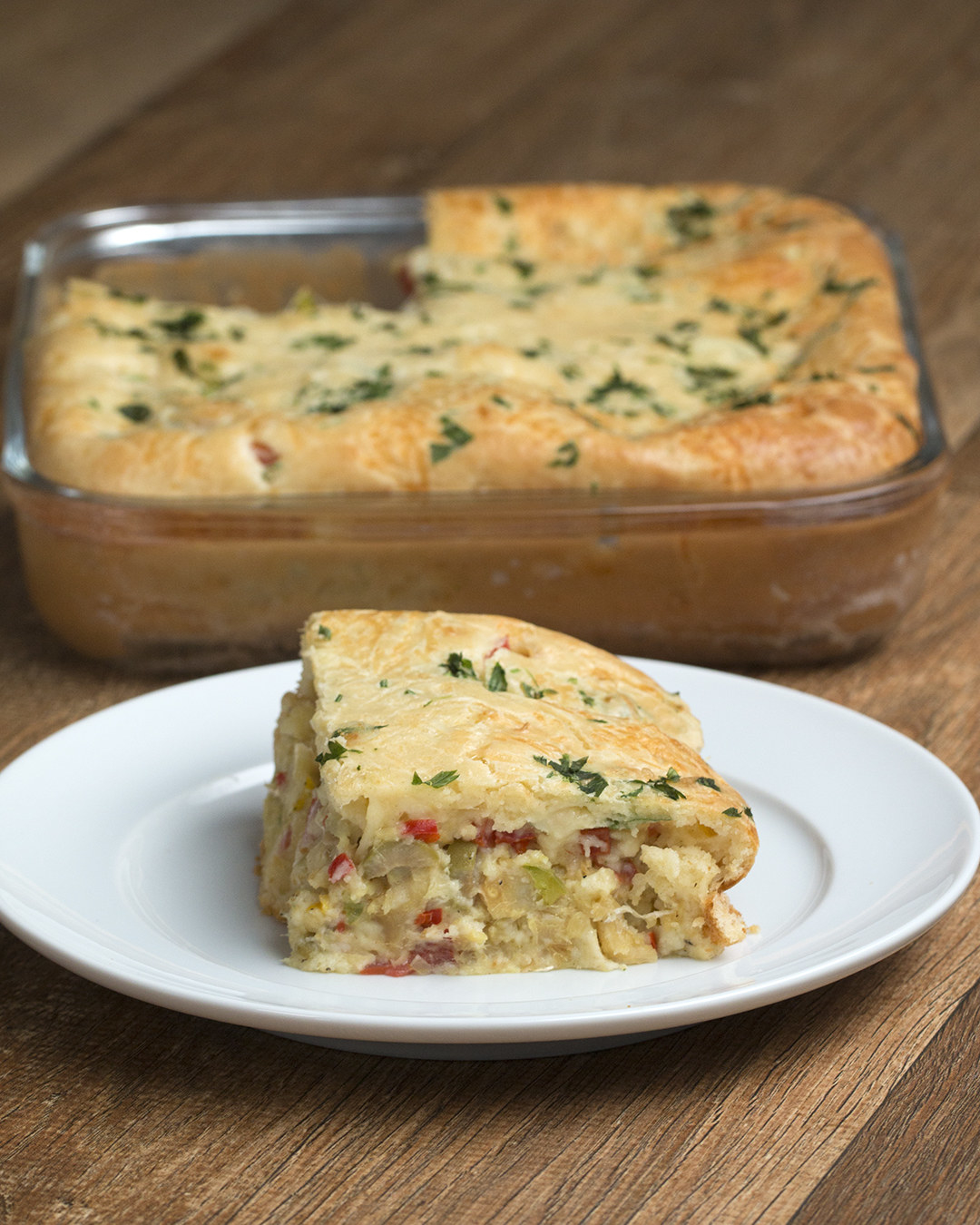 Looks like there are no comments yet.
Be the first to comment!