Você vai precisar de:
3 bananas maduras
2 ovos
½ xícara de iogurte grego
⅓ xícara de maple syrup
1 colher de chá de essência de baunilha
1 xícara de farinha de trigo integral
1 ½ colher de chá de fermento químico
¼ xícara de pedaços de chocolate amargo
Modo de preparo:
1. Preaqueça o forno a 170˚C.
2. Amasse as bananas em uma tigela grande. Acrescente os ovos e misture bem. Misture o restante dos ingredientes molhados: iogurte grego, maple syrup e baunilha.
3. Após isso, acrescente a farinha de trigo integral e fermento e misture até homogeneizar. Cuidado para não bater demais.
4. Em uma tigela média, que possa ser levada ao micro-ondas, coloque os pedaços de chocolate. Leve-os ao micro-ondas em intervalos de 30 segundos, mexendo nesse ínterim, até derreter e ficar uniforme.
5. Acrescente uma xícara da massa de banana à tigela de chocolate derretido e bata até misturar bem.
6. Coloque a massa de banana e a massa de chocolate, alternadamente, em uma forma de pão de 22x12 centímetros previamente untada. Não é necessário que as camadas sejam uniformes.
7. Utilizando uma faca ou colher, faça movimentos em espiral delicadamente, misturando as massas.
8. Leve ao forno por 40 a 45 minutos ou até que possa enfiar um palito de dentes no centro do pão e este saia seco.
9. Deixe esfriar por pelo menos 15 minutos.
10. Bom apetite!
Hipnotizante!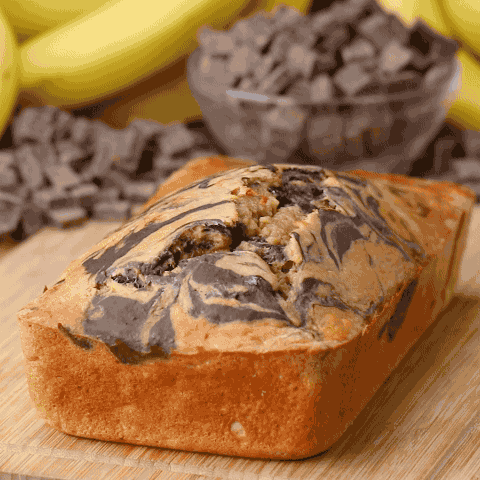 Looks like there are no comments yet.
Be the first to comment!