Você vai precisar de:
5 coxas de frango
1 colher de chá de sal
1 colher de chá de pimenta
1 colher de chá de páprica
1 colher de chá de salsa desidratada
1 colher de sopa de azeite de oliva
1 colher de sopa de alho picado
½ cebola roxa picada
1 xícara de arroz
1½ xícara de caldo de frango
Sal a gosto
Pimenta a gosto
Modo de preparo:
1. Preaqueça o forno a 200˚C.
2. Em uma tigela grande, tempere uniformemente as coxas de frango com sal, pimenta, páprica e salsa.
3. Aqueça o azeite de oliva em fogo alto em um recipiente à prova de fogo e coloque as coxas de fogo, com a pele virada para baixo, no azeite quente. Asse por 5-6 minutos ou até a coxas ficarem douradas e vire-as ao contrário. Asse por mais 5-6 minutos para dourar o outro lado e remova-as do recipiente.
4. Acrescente o alho e a cebola ao recipiente e cozinhe até que os pedaços de cebola fiquem transparentes.
5. Acrescente o arroz e o caldo de frango e tempere com sal e pimenta. Mexa bem até começar a ferver.
6. Acrescente as coxas de frango novamente no recipiente, com a pele virada para baixo, em cima do arroz; coloque uma tampa e espere ferver.
7. Cozinhe por 35-40 minutos ou até o arroz ficar completamente cozido.
8. Opcional: Remova as coxas de frango e asse para que a pele fique crocante.
9. Aproveite!
Porções: 5
Suculento!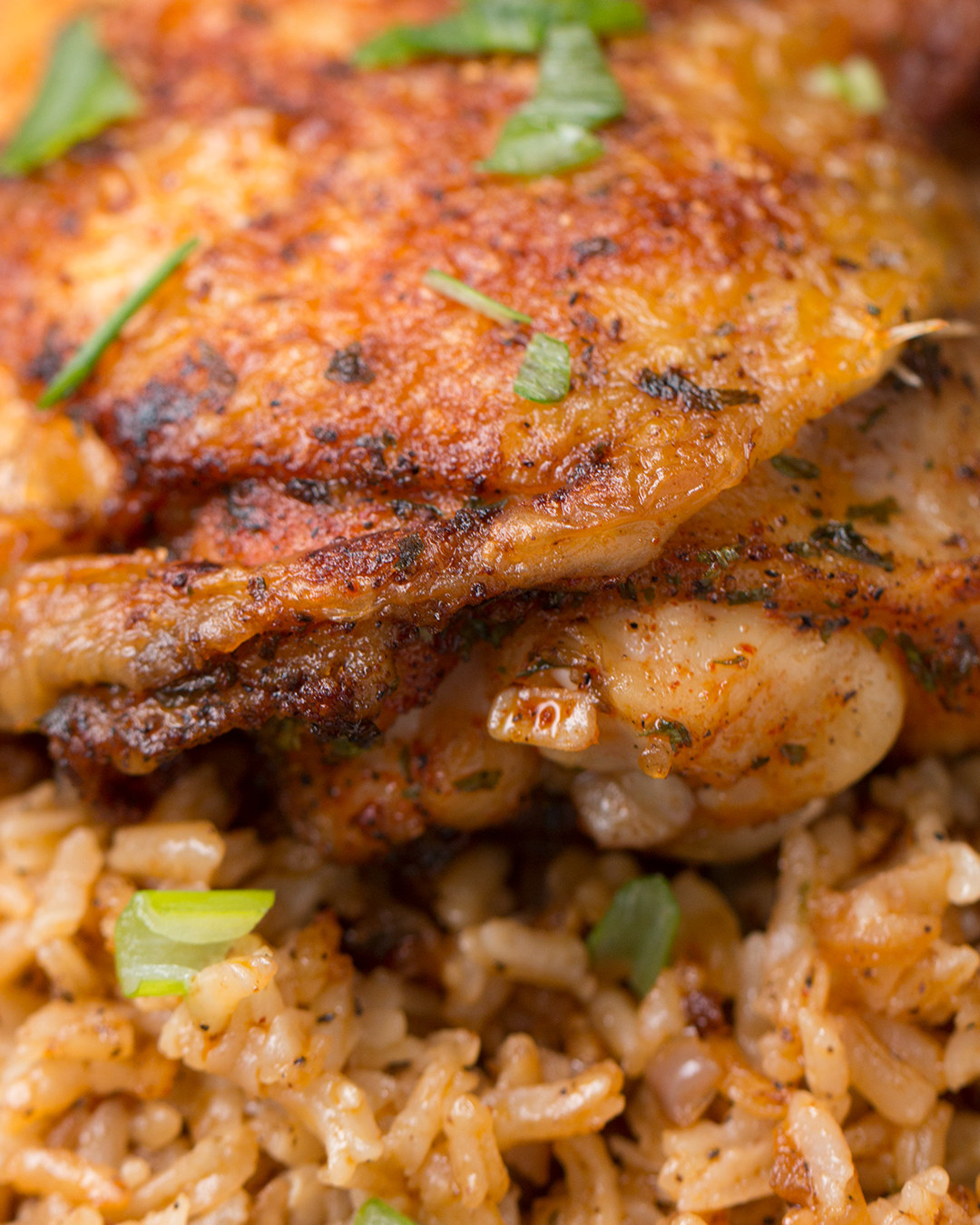 Looks like there are no comments yet.
Be the first to comment!