THE BUSINESS CHALLENGE
Oral hygiene plays a crucial role when it comes to general health and quality of life around the world. As the mouthwash category leader, LISTERINE® understands the importance of innovation and investing in new products that help consumers prioritize oral health. To help combat the global prevalence of cavities in children and adults, LISTERINE® launched a new alcohol-free, anti-cavity mouthwash. The brand set out to educate young adults in Brazil on the benefits of this new product to inform them of the reasons why it is an essential part of their daily routine.
---
GOAL
Drive brand message that LISTERINE® protects teeth from cavities and makes them stronger, in order to motivate purchase consideration.
---
STRATEGIC INSIGHT
Brazilians value oral health, with almost 9 out of 10 regularly using oral and dental care products in their daily lives. However, cavities, gingivitis, and other oral diseases continue to plague Brazilians, despite the fact that these issues are often preventable. LISTERINE® recognized the importance of helping young parents engrain good dental habits in their children at a young age, as tooth decay typically begins painless and develops gradually over time. LISTERINE® Anti-Cavity Mouthwash is alcohol-free, making it safe for children to use and appealing to adults.
We created original branded content to reach young couples and communicate the family-friendly benefits of LISTERINE® Anti-Cavity mouthwash.
---
MAIN IDEA
The strategic insight took form in two co-branded videos and a custom quiz. The videos featured educational and humorous content, which our viewers love, that informed by engaging them with games about teeth and oral hygiene.
Video 1: True or False
Video 2: ASMR
buzzfeed.com
You can only chew hard things if you pass this test. First step: strong teeth. Step two: Eat all you want.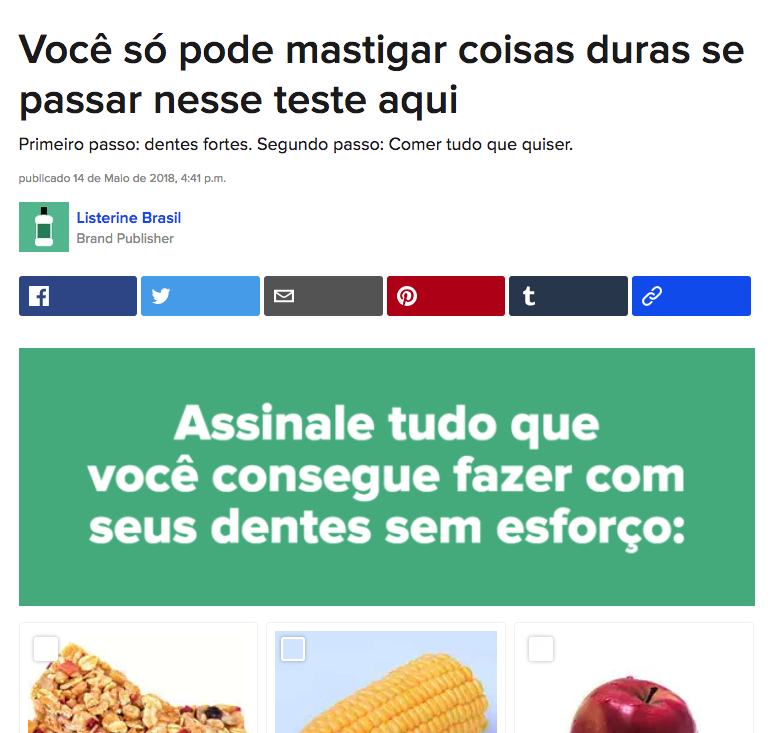 ---
DISTRIBUTION STRATEGY
We have a blended methodology of reaching a brand's audiences through loyal fans and the Facebook audience where we optimize videos towards the most engagements, gaining the highest potential "qualified reach" for your brand's content.
Among those we impacted, the best performance was among our Tasty audience followed by those with an interest in food more generally. Impressively, we achieved a CTR of 10.95%, almost 5x the benchmark.

---
RESULTS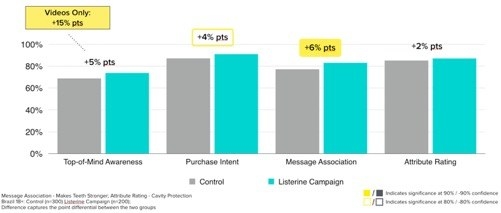 We also conducted a Forced Exposure study to measure the attitudinal impact of the content. The results underscored the campaign's strength, as significant impact was seen in communication that LISTERINE® makes teeth stronger, and even influenced intent to purchase LISTERINE®. Furthermore, 2 out of 3 indicated that this was the best mouthwash advertising they have ever seen!
The attitudinal success of the content can be attributed to strong thematic alignment with relevant content, coupled with visuals of the product itself, that captured the attention of the audience.

---
KEY TAKEAWAYS
LISTERINE® remains at the forefront of innovation within the oral health industry, as the brand continues to further establish LISTERINE® Anti-Cavity mouthwash as an essential product within the homes of Brazilian consumers. LISTERINE®'s partnership with BuzzFeed facilitated mass reach, amplified messaging, and motivated purchase behavior for this exciting new product that is doing its part to end oral health related issues in Brazil.
"We had the challenge of continuing the conversation with our target about the launch of the new LISTERINE® Anti-Cavity mouthwash, in a more irreverent way, completely different from what we've done already in other previous campaigns. The combination of Video content and Quiz, brought up the "2x stronger teeth" – product's main claim and the humorous content fit perfectly with the brand's bold spirit. The BuzzFeed Team understood LISTERINE® momentum and presented a proposal that was the perfect complement for our main product launch."

Flavia Marchese, Brand Manager, LISTERINE® Brasil