O QUÊ???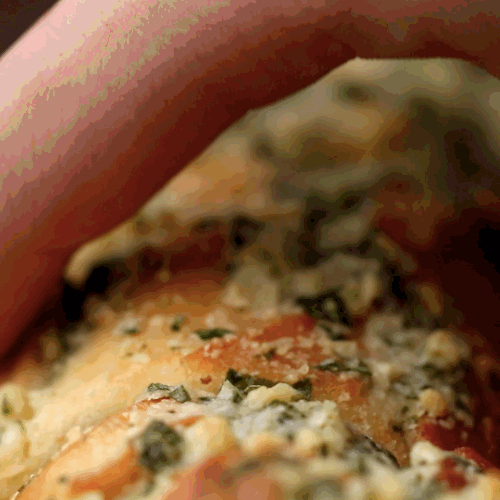 Você vai precisar de:
1 peito de frango, sem osso e sem pele
2 xícaras de farinha de trigo
4 ovos batidos
2 xícaras de farinha de rosca temperada
1 xícara de óleo para fritar
1 baguete grande
10-12 fatias de muçarela
Molho de tomate
Para a manteiga de alho:
⅓ de xícara de manteiga derretida
3 dentes de alho amassados
1 colher de sopa de salsa, picada
1 colher de sopa de parmesão ralado
Modo de preparo:
1. Fatie o peito de frango em tiras de 1 centímetro de espessura.
2. Coloque a farinha de trigo, os ovos e a farinha de rosca em 3 tigelas separadas.
3. Role uma tira de frango na farinha, e tire o excesso. Molhe a tira no ovo e então coloque-a na farinha de rosca, cobrindo-a completamente.
4. Repita com o frango restante.
5. Aqueça óleo a 350˚F/ 180˚C e preaqueça o forno a 350°F / 180˚C.
6. Frite as tiras de frango empanadas até os dois lados ficarem dourados. Coloque em papel toalha para remover o excesso de óleo.
7. Fatie a baguete em pedaços aproximadamente do mesmo comprimento das tiras de frango à milanesa.
8. Tire o miolo dos pedaços da baguete com uma faca.
9. Coloque duas fatias de muçarela uma sobre a outra, coloque uma tira de frango empanado e dobre a muçarela bem firme em volta do frango.
10. Coloque as fatias de frango enroladas dentro de um pedaço da baguete.
11. Fatie os pedaços recheados da baguete e as coloque bem juntas em uma assadeira untada com óleo.
12. Em uma tigela pequena, misture os ingredientes para manteiga de alho.
Espalhe a manteiga de alho igualmente pelas fatias da baguete, assegurando-se de que um pouco fique entre as fatias.
13. Embrulhe a baguete no papel alumínio e leve ao forno por 20-25 minutos, até o queijo derreter e o topo começar a dourar.
14. Remova o papel alumínio e sirva com molho de tomate!
Olha esta sequência de imagens.

Looks like there are no comments yet.
Be the first to comment!