Você vai precisar de:
8 batatas médias descascadas e cortadas em pedaços médios.
2 colheres de chá de sal
1 xícara de presunto picado em pequenos pedaços
¾ xícara de queijo, cortado em pequenos pedaços
½ cebolinha picada
1 colher de chá de pimenta
1 colher de sopa de leite
1 xícara de farinha de trigo
4 ovos batidos
2 xícaras de farinha de rosca (ou farinha para empanar)
Óleo, para fritar
Repolho verde picado para servir
Molho Tonkatsu para servir
Modo de preparo:
1. Aqueça água em uma panela até a fervura e adicione as batatas, 1 colher de chá de sal e mexa.
2. Cubra e ferva por 10-15 minutos, até que um garfo possa furar as batatas com facilidade.
3. Seque as batatas em uma toalha, permitindo que resfriem para remover o excesso de umidade, então transfira para um refratário grande.
4. Amasse as batatas até que não haja nenhum pedaço grande.
5. Adicione presunto, queijo, cebolinha, e outra colher de chá de sal, pimenta e leite.
6. Mexa até que esteja tudo bem incorporado.
7. Modele a mistura de batata em discos de 5 cm.
8. Separe a farinha, ovos e farinha de pão em refratários diferentes.
9. Passe os croquetes na farinha, retirando o excesso, depois passe nos ovos e depois cubra-os de forma homogênea com a farinha de pão.
10. Aqueça óleo em uma panela a 180 °C.
11. Frite 2-3 croquetes por vez até ficarem dourados, depois retire o excesso de óleo em um prato forrado com papel toalha.
12. Esfrie, depois sirva com o repolho e molho.
13. Bom apetite!
Porções: 6-8
Croquetes de presunto e queijo no estilo japonês (Korokke)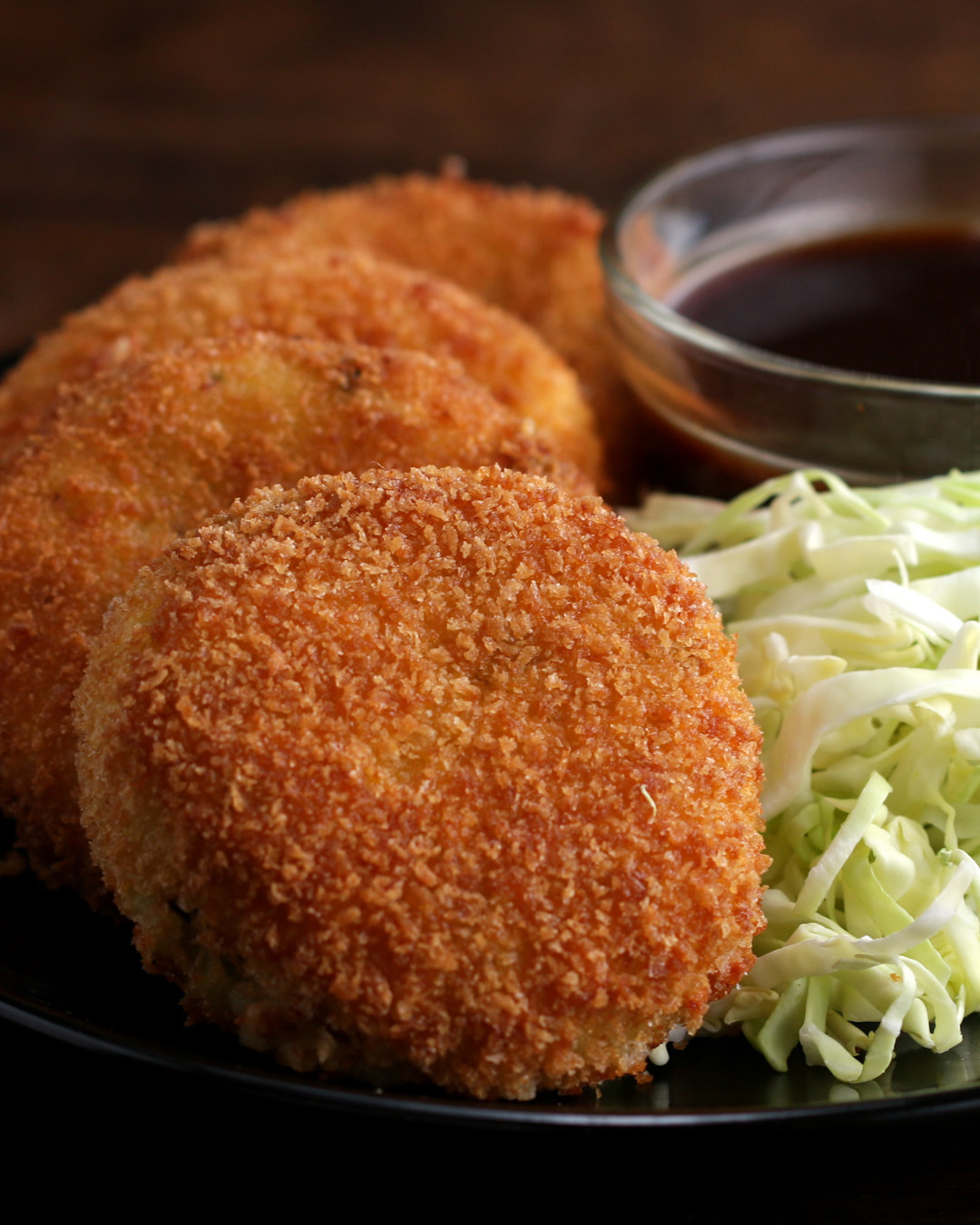 Looks like there are no comments yet.
Be the first to comment!