Você vai precisar de:
¼ xícara de manteiga em cubos
2 colheres de sopa de açúcar mascavo
½ colher de chá de sal
1 copo de água
1 xícara de farinha de trigo
1 colher de chá de essência de baunilha
3 ou 4 ovos
½ xícara de chips de chocolate
Óleo para fritar
Açúcar com canela
Utensílios
Saco de confeitar com uma estrela grande na ponta
Assadeira antiaderente
Modo de preparo:
1. Em uma panela em fogo médio alto, adicione manteiga, açúcar mascavo, sal e água e deixe ferver.
2. Assim que a manteiga estiver completamente derretida e a mistura começar a ferver, reduza o fogo a médio baixo e adicione a farinha.
3. Usando uma colher de pau, mexa até a massa fica lisa e se juntar formando uma bola.
4. Retire do fogo e deixe esfriar por 5 minutos antes de prosseguir para a próxima etapa (para evitar cozinhar os ovos acidentalmente).
5. Misture a essência de baunilha e adicione os ovos, um de cada vez, cuidando para incorporar totalmente cada ovo antes de adicionar o próximo. Depois que todos os ovos estiverem incorporados, transfira essa massa para um saco de confeitar com uma estrela grande na ponta.
6. Coloque a massa em uma assadeira antiaderente formando círculos com um buraco no centro.
7. Coloque as gotas de chocolate em cima desses anéis e acrescente mais uma camada de massa em cima, certificando-se de não deixar nenhuma lacuna entre as camadas.
8. Leve a assadeira para o congelador por cerca de 3 horas ou durante a noite.
9. Aqueça o óleo em uma panela funda até 175° C.
10. Retire a assadeira do congelador e use uma faca de manteiga para liberar os donuts de churros. Sempre devolva para o congelador os donuts que ainda não foram para a fritura.
11. Frite os donuts de pouco a pouco para evitar que a panela fique muito cheia. Espere até que eles fiquem marrons e a massa esteja cozida completamente.
12. Escorra e seque em uma toalha de papel antes de rolá-los em açúcar com canela.
13. Bom apetite!
Olha só este recheio!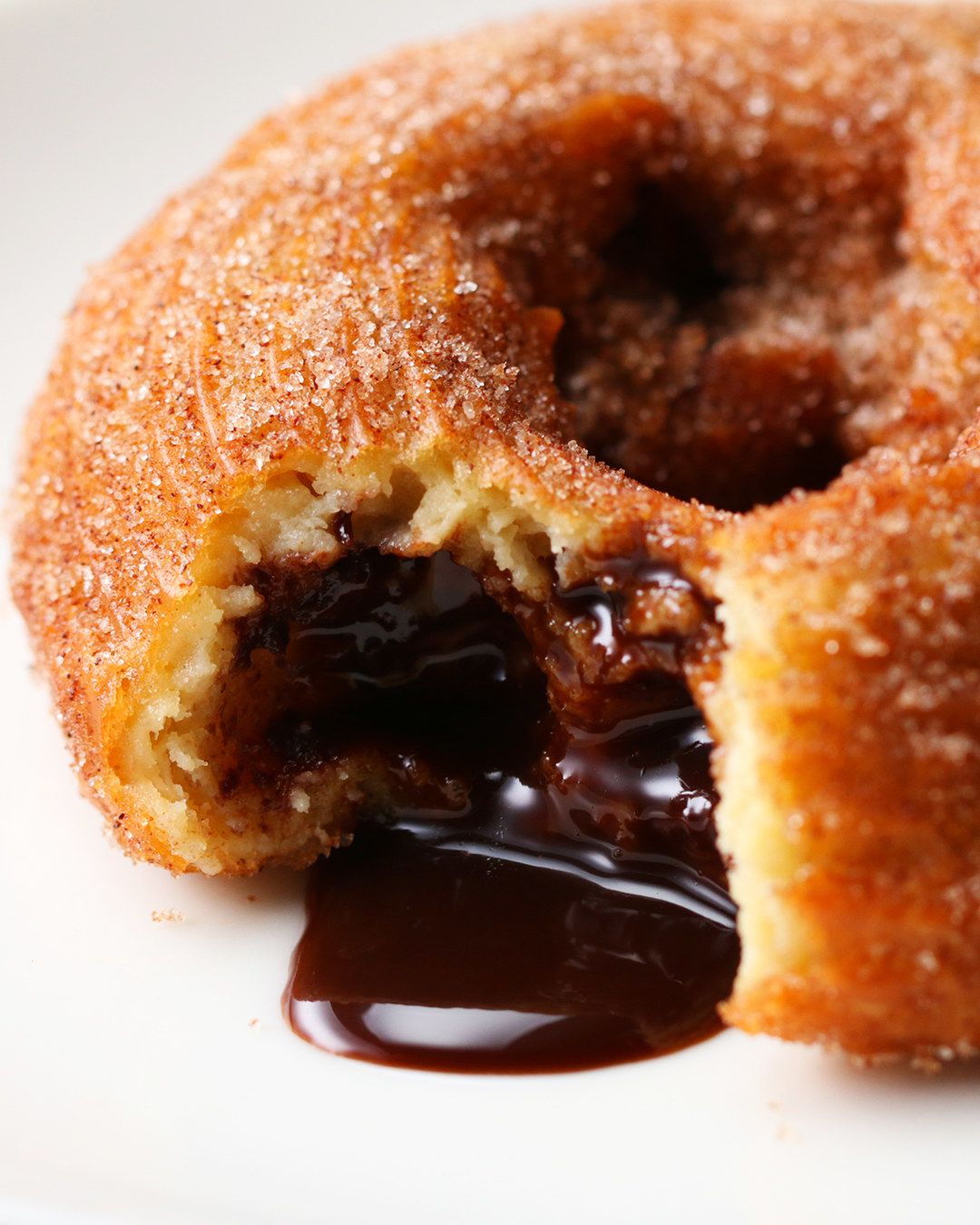 Looks like there are no comments yet.
Be the first to comment!