O homem no centro da foto é Talal Al-tinawi, refugiado sírio que desde 2013 tenta reconstruir a vida com a família em São Paulo.
Neste vídeo ele conta que enquanto tentava revalidar seu diploma para trabalhar como engenheiro mecânico, ele percebeu o amor do paulistano por comida árabe e começou a vender quitutes sírios por encomenda.
Com o crescimento dos pedidos, Talal decidiu tentar abrir um restaurante e pediu R$ 60 mil em um projeto de financiamento colaborativo. Até o fechamento deste post, pouco mais de R$ 20 mil haviam sido arrecadados.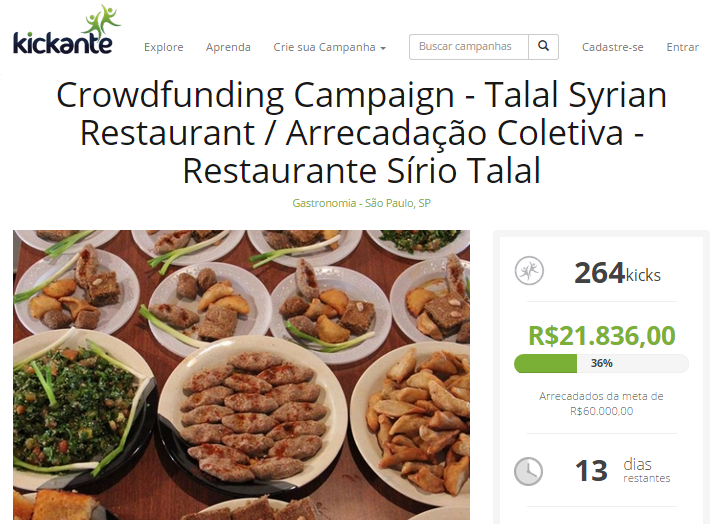 As pessoas podem contribuir com valores que vão de R$ 50 a R$ 25 mil. As recompensas para quem participar do projeto vão de cartões de desconto à idas gratuitas no futuro restaurante.
Por exemplo, quem contribuir com R$ 50 poderá comer uma vez por conta da casa (café da manhã, almoço ou jantar); com R$ 125 reais o cliente poderá comer 3 vezes ou com outras 2 pessoas por uma vez.
Com uma doação de R$ 500 a pessoa poderá fazer uma festa para 8 pessoas com comida por conta da casa. Por R$ 25 mil o cliente recebe um cartão vale desconto de 40%, para ser usado ilimitadamente durante 1 ano.
"Todos os pratos que produzo preservam as receitas e modo de preparo típicos do meu país", escreveu Talal no texto de apresentação do projeto.
Looks like there are no comments yet.
Be the first to comment!