Ed Motta fez um post no Facebook na manhã desta quinta-feira (9) para reclamar no público brasileiro em shows que faz no exterior.
Meu público brasileiro de verdade na Europa, é um pessoal mais culto, informado, essas pessoas nunca gritaram nada, o negócio é que vai uma turma mais simplória que nunca me acompanhou no Brasil, com camiseta apertada tipo jogador de futebol, com aquele relógio branco, e começa gritar nome de time. Não gaste seu dinheiro, e nem a paciência alheia atrapalhando um trabalho que é realizado com seriedade cirúrgica, esse não é um show para matar a saudade do Brasil, esse é um show internacional.
Brasileiros logo começaram a mostrar insatisfação com o tom da reclamação do cantor, que tratou logo de responder um por um.

Explicou que tava com tempo para ficar no Facebook respondendo os comentários.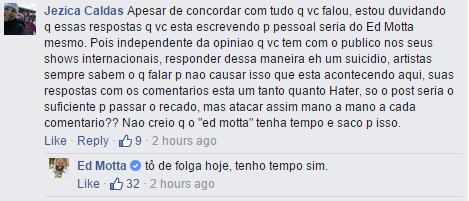 E ele estava livre mesmo: teve até tempo de stalkear os perfis de quem comentava. Aqui ele tenta ofender chamando o comentarista de "moço caipira" e tenta imitar o sotaque de quem é do interior.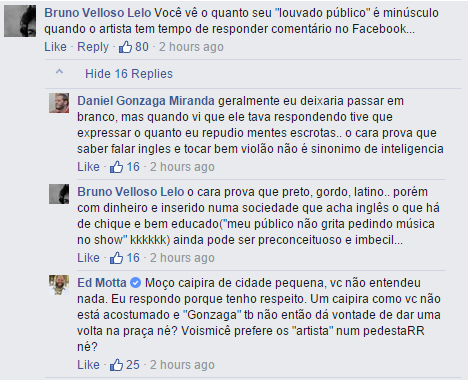 Até quem é fã ficou decepcionado. Ed respondeu que é constrangedor fazer show para "pedreiro brasileiro" fora do país.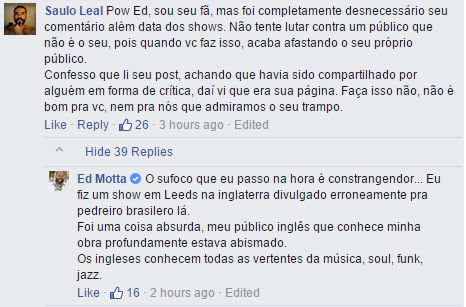 Para Ed, ele é "tipo um professor de escola pública cheia de criança esfomeada sem entender nada".

Um artista que não faz música desonesta nesse "país de merda".

E acha que "SP carrega o Brasil ignorante nas costas".

Sobrou até para o Caetano Veloso.

Sobrou tempo até para comentário, no mínimo, de extremo mal gosto.

Arrogante? Para ele é elogio.

E talvez essa seja a melhor interação de todo o post:

Looks like there are no comments yet.
Be the first to comment!