Os amigos Matheus Adams, 19 anos, e Rodrigo Ferreira, 22, estavam num ônibus em Duque de Caxias (RJ), na última segunda-feira (29), quando foram vítimas de um problema crônico do Rio de Janeiro: um tiroteio em via pública.
"Foi tiro mesmo, assaltaram um carro na frente do ônibus", conta Matheus, que voltava da faculdade, ao BuzzFeed Brasil.
Eles deitaram no chão, como os outros passageiros, e ficaram com medo — mas tentaram melhorar a situação com esta selfie.
Matheus, que aparece na foto de boné azul, diz que a ideia de registrar o momento foi de Rodrigo, mas ele teve que tentar duas vezes. Primeiro, com o próprio celular — que estava com a memória cheia. Depois, Matheus emprestou o dele (e em seguida publicou a imagem, às 22h53).
A foto fez muito sucesso — foi compartilhada mais de 20 mil vezes no Facebook. "Aquela adrenalina boa de quem mora em Caxias kkkk", Matheus escreveu na legenda.
"Era pra ser só uma brincadeira, a gente não imaginava que ia ter essa repercussão", ele diz. "Estávamos em Gramacho [bairro em Duque de Caxias]. Tiroteio virou frequente por lá", continua.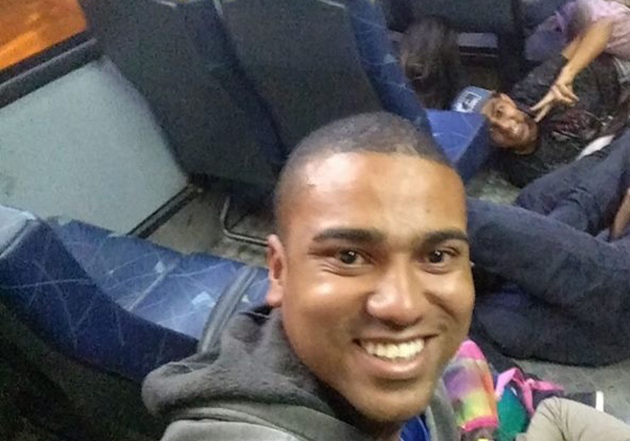 Segundo o site Fogo Cruzado, que monitora informações sobre tiroteios no Rio, houve 154 trocas de tiro na região metropolitana em abril, último dado mensal disponível — o levantamento leva em conta informações de usuários, da Polícia Militar e da imprensa para consolidar seus relatórios.
Alexandre Aragão é Repórter do BuzzFeed e trabalha em São Paulo. Entre em contato com ele pelo email alexandre.aragao@buzzfeed.com
Contact Alexandre Aragão at alexandre.aragao@buzzfeed.com.
Got a confidential tip? Submit it here.
Looks like there are no comments yet.
Be the first to comment!