O Facebook e o Instagram anunciaram nesta quarta (1º) novas ferramentas para o usuário controlar melhor — ou limitar — o tempo que gasta nos aplicativos.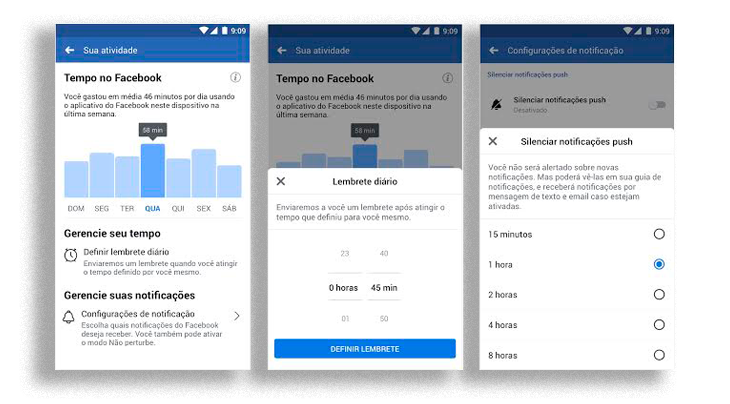 Tanto no Facebook como no Instagram, agora haverá um painel de atividades que permite ao usuário ver quanto tempo passou nos aplicativos nos últimos dias e será possível estabelecer uma notificação diária com limite de tempo.
Quando o limite de tempo definido pelo usuário estiver perto de ser atingido, o aplicativo enviará uma notificação.
Também haverá uma opção para silenciar notificações por um tempo determinado, como ocorre nos grupos de WhatsApp, por exemplo. Os tempos variam de 15 minutos a 8 horas.
Em nota, o Facebook afirmou que as novas ferramentas foram desenvolvidas "com a colaboração e inspiração de especialistas e organizações líderes em saúde mental, acadêmicos, assim como uma extensa pesquisa própria".
Veja também:
Alexandre Aragão é Repórter do BuzzFeed e trabalha em São Paulo. Entre em contato com ele pelo email alexandre.aragao@buzzfeed.com
Contact Alexandre Aragão at alexandre.aragao@buzzfeed.com.
Got a confidential tip? Submit it here.
Looks like there are no comments yet.
Be the first to comment!