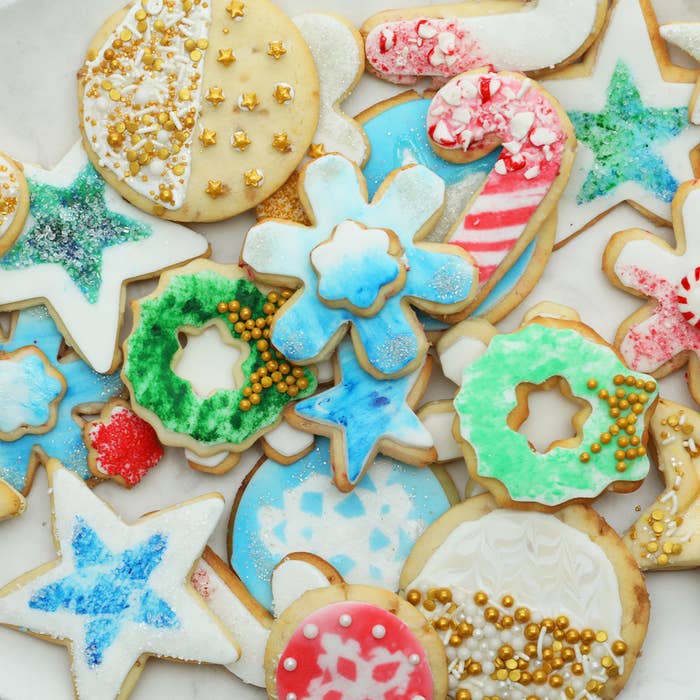 INGREDIENTS
Sugar Cookie Base
1 1/2 cups butter, softened
2 cups white sugar
4 eggs
1 teaspoon vanilla extract
5 cups all-purpose flour
2 teaspoons baking powder
1 teaspoon salt
Small bowl of flour for dusting
Mix-ins
Toffee bits
Holiday colored sprinkles
Peppermint candies, crushed between paper towels
Decorations
1 lb Fondant
1 tablespoon powdered sugar
Colored food dye
Colored dusting sugar and decorative candies
Paper towel shapes
PREPARATION
1. To make cookie base, cream together sugar and softened butter, then add eggs and vanilla extract. Then stir in flour, baking powder and salt.
2. Divide the dough evenly into 4 bowls. Add a different mix-in to 3 of the bowls and fold in until combined, leaving the last dough plain. Cover each bowl and refrigerate for at least 1 hour.
3. Preheat oven to 400 degrees.
4. Once dough is chilled remove one of the bowls from the fridge and place dough on a flour dusted surface. Dust the top of the dough with flour and then place a Bounty paper towel on top, rolling with a pin over it. Once rolled out to ¼ inch- ½ inch thick, peel off paper towel and cut into shapes with cookie cutters.
5. Place each cookie on a baking sheet about 1 inch apart, and place in the oven for 6-8 minutes until the edges are browned. Set aside to cool completely.
6. Repeat with the rest of the dough.
7. While the cookies are cooling, roll out the fondant. Dust surface with powdered sugar and place kneaded fondant on it, and then dust the top with powdered sugar.
8. Place a Bounty paper towel on top of the fondant before rolling it out to prevent sticking.
9. Once fondant is rolled out as this as desired, peel off paper towel and cut fondant to size to fit each cookie.
10. Using paper towels, decorate the cookies by: blotting color on them, cutting out shapes and using them as stencils, using the edge of them to make lines, and crushing up peppermint and dusting on tip of fondant.
NOTES:
Use a bit of prepared royal icing to make the fondant stick to the cookie. Use a bit of water to wet the fondant to make things stick to it. Also wet paper towel stencils before placing it on a cookie to make the sharpest edges.