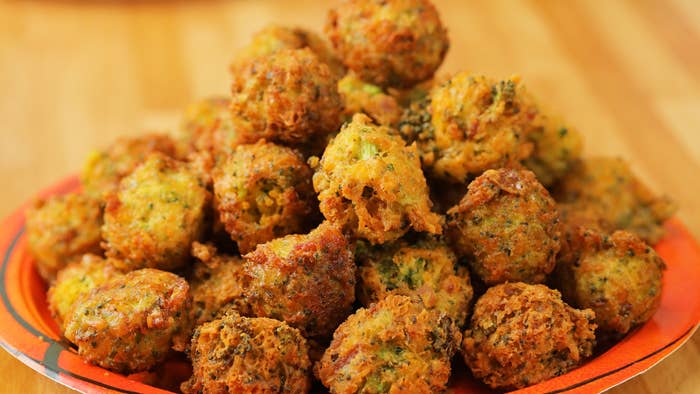 INGREDIENTS
1 Roll Bounty Paper Towels
4 strips bacon
3 cups broccoli florets, cut small
1⁄4 cup water
2 teaspoons salt, divided
4 eggs
1 teaspoon pepper
2 cups cheddar cheese, finely shredded
1⁄4 cup chives, finely sliced
1⁄2 cup flour
PREPARATION
1. On a microwave-safe plate, place bacon in a single layer. Microwave for 2 1⁄2 minutes. Carefully remove from microwave (plate may be hot), and gently press a Bounty paper towel sheet onto bacon to remove grease. Once bacon is cool enough to handle, chop to small pieces.
2. Place broccoli in a medium microwave-safe bowl. Add water and 1 teaspoon salt. Cover with 1-2 layers of dampened Bounty paper towels. Microwave for 4 minutes, until steamed. Once they have cooled, chop broccoli.
3. In a medium bowl, whisk together eggs, 1 teaspoon salt, and pepper. Add bacon, broccoli, cheese, and chives. Stir with a spatula to combine, then sprinkle flour over and keep gently folding to combine.
4. Heat a pot of oil to 375oF (using a clip-on thermometer). Using a small ice-cream scoop (a little larger than a tablespoon) to scoop
5-7 fritters into the oil at a time. Fry until golden brown and cooked through, about 3-4 minutes. Remove fritters from oil and place on a Bounty-lined tray or wire rack. Season with a bit of salt as soon as they come out of the oil. Repeat in batches until all the batter is used up.