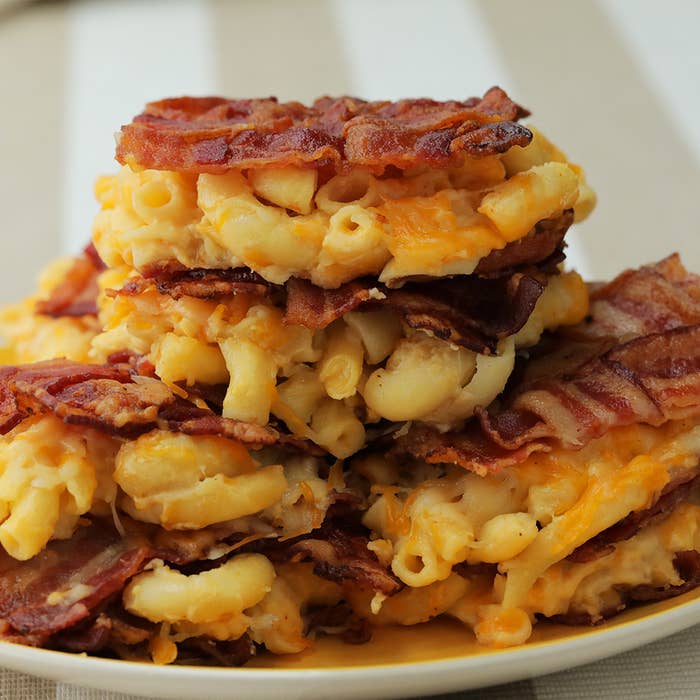 INGREDIENTS
2 packages of bacon (16 ounces each)
2 cups elbow macaroni
3 cups shredded cheese, divided
2 cups milk
½ teaspoon salt
PREPARATION
For the bacon lattices:
1. Preheat oven to 425°F/220°C.
2. On a large lined baking sheet, place bacon strips in a latticed square. Start with 6 strips lined up vertically as close as possible, then fold every other piece of bacon downwards. Place another piece of bacon going across the 6 pieces horizontally, folding the vertical pieces across. Continue to lay bacon slices until you have completed the lattice (should take 12 pieces of bacon).
3. Bake 12–14 minutes or until crispy and brown.
4. Carefully remove from oven and flip over to crisp other side (about 2–4 additional minutes). Place on Bounty paper towels to drain. Place another Bounty paper towel on top to remove all additional oil from the top.
For the mac 'n' cheese:
1. In a saucepan, place just enough water and salt over pasta to boil (cover by about ½" on top). Cook until pasta is al dente and carefully drain any remaining water.
2. Add milk and bring to a simmer, stir, and add 2½ cups cheese. Combine well and continue to simmer until cheese is thick and creamy (about 8–10 minutes).
3. Place ¼ cup remaining cheese on the bottom of 1 of the bacon lattices. Add mac 'n' cheese and remaining ¼ cup of cheese. Top with remaining bacon lattice and cut into 4 quesadillas. Serve immediately.