Sick of Uber? Try These Great Ridesharing Alternatives.
Not sure which rideshare service to take? Are you nervous about trying Uber because of bad press? Getting to know the service you'll be using can help allay some of your fears about ridesharing. We've come up with a helpful list of Uber alternatives, as well as a comprehensive overview of each one's services to let you make the right choice.
Uber
Uber started all the way back in 2010 as a ridesharing service that promised a personalized consumer experience. It also emerged as one of the best contractor driving jobs around. Drivers felt more liberated, and they loved the option to drive only when they wanted to.
Pros:
Have you ever tried to hail a cab in New York at rush hour? It's a nightmare! Uber has a helpful app that lets you plug in your pickup location. It notifies you when your request is accepted, your driver takes you to your destination, and you pay less than you would with a traditional taxi. Drivers are thoroughly vetted with background checks to make sure they're qualified to drive. Uber's rating system helps the company to keep only the best drivers. Any Uber rating below 4.6 out of 5 will get the driver dropped off from the Uber network, so service needs to be top notch.
Cons:
Uber has had its fair share of controversy. Most recently have been the rate cuts that inspired a series of protests outside Uber headquarters. Lower rates for drivers mean they have to work even harder to earn a decent paycheck. While rate cuts may seem good for consumers, passengers will soon find out that amenities during the ride will be taken away to cut costs (free water bottles, gum, etc.), and they'll feel pressure to provide tips for poor drivers who don't have a dime to their name. Uber doesn't have a contact number, if you have any issues, you can only contact them through email or chat.
Lyft
Lyft is Uber's fiercest competitor, and although the price cuts have affected Lyft drivers as well, there are some key differences that make Lyft a better alternative to Uber.
Pros:
Lyft's rating system helps the company to keep only the best drivers. Any rating below 4.6/5 means the driver is stripped of their driving privileges, so service needs to be top notch. Cars driven by Lyft contractors must be 2000 or newer, so you won't be riding in a broken down rust bucket. You can also ride in a swanky SUV by using LyftPlus, and it only costs 50% more than a regular Lyft ride. Unlike Uber, Lyft has a tipping feature and 100% of the tips go to the drivers. Their website also has a "Lost and Found" section for passengers to recover items they may have left behind.
Cons:
It's sad to say, but like Uber, Lyft has received an F-rating from the Better Business Bureau. This is due in part to subpar customer service. Lyft has no customer service phone number, and email enquiries take quite awhile to be answered, meaning emergencies put passengers out of luck. Lyft also raises their rates during peak times, which the company refers to as PrimeTime. Although their rates don't go as high as Uber's, it's still a bummer to pay triple what you normally would during less busy times of day.
Flywheel
Flywheel isn't actually a ridesharing service, but it's still a great alternative to Uber. Flywheel lets you schedule a traditional taxi ride without having to hail a cab (after all, the arm-flailing gets a bit tiring after awhile).
Pros:
Flywheel's rates are the same as whatever location you hail the cab. While this means that you'll have to search out rates independently before purchasing a ride, Flywheel promises not to raise rates when there's increased demand for their services. You can also book taxi rides for later dates. Got a hot date on the weekend? Schedule a cab to pick you up instead of waiting to book a ride last minute. Users simply download the app for Android or iOS and pay via the app's credit system.
Cons:
Unfortunately, you aren't saving any money with Flywheel. The price tag (which includes a 5% processing fee for paying with the Flywheel app) may be worth avoiding the headache of hailing a cab, but it's still hard on your wallet. Flywheel is only available on the West Coast in the San Francisco Bay Area, Seattle, San Diego, Sacramento, Los Angeles and Portland. In the end, you're still stuck in a smelly cab with the same taxi drivers that inspired Uber in the first place.
Gett
If you hate surge pricing during busy times or inclement weather, Gett has risen to the challenge that both riders and drivers face. Gett promises to be a cheap alternative to rideshares like Uber, all while paying their drivers a decent rate and keeping costs affordable for consumers.
Pros:
Most companies like Uber increase fares when there are "peak times". Peak times are when the most rides are being requested, but Gett actually pays drivers more during these periods. This all comes at no extra cost to the customer; Gett simply takes less out of the driver's paycheck. Although less money is being paid to Gett, they're still making quite a bit because there are more rides. Consumers and drivers alike fare well (no pun intended) with Gett's policies.
Cons:
Consumers outside of New York City are going to be disappointed: Gett only offers rides within the city limits. It currently has no other locations, and it's not certain they will ever expand outside the Big Apple (aside from their international locations). It's a bummer that such a great service is exclusive to New York City streets, and what's more, its flat rates only apply on certain routes. Gett is great for New Yorkers, but not so much for the rest of the country.
Arro
Arro is the newest in transportation innovation. Much like Gett, it lets drivers hail cabs using an app instead of the old-fashioned whistle or waving arms. Although it started recently, the company is already in NYC, Chicago and Boston, with plans to expand to Washington, D.C. and more.
Pros:
Arro works directly with Yellow Cab, the most well-known taxi service in the world. Arro uses technology that is already integrated in yellow taxi cabs, so you don't have to worry whether your taxi driver will accept Arro's payment system. You can book rides using the Android/iOS app, as well as pay for them before or during the ride. Arro rides are, of course, the same price as whatever taxi fare your area charges. Even if you've already hailed a cab without the app, you can sign up for Arro on the go and exit your ride without having to count out loose change.
Cons:
The downside of being new is that there are still quite a few kinks to work out. The app's interface can freeze, and it's slow to respond. There's also no guarantee that you'll be able to get a ride. While the integration between Yellow Cab's terminal software and Arro is an advantage in some ways, it's a problem when there's a shortage of cabs. No surge pricing count for much if you can't get a cab at all. Arro's success depends on what it can offer users in the future, as well as the improvements it makes to a problematic interface.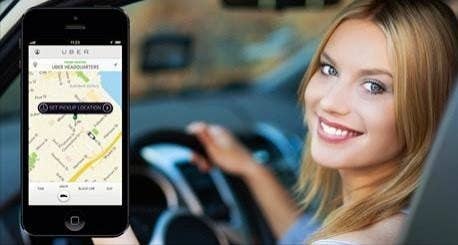 rideordriveuber.com
Not sure which rideshare service to take? Are you nervous about trying Uber because of bad press? Getting to know the service you'll be using can help allay some of your fears about ridesharing.