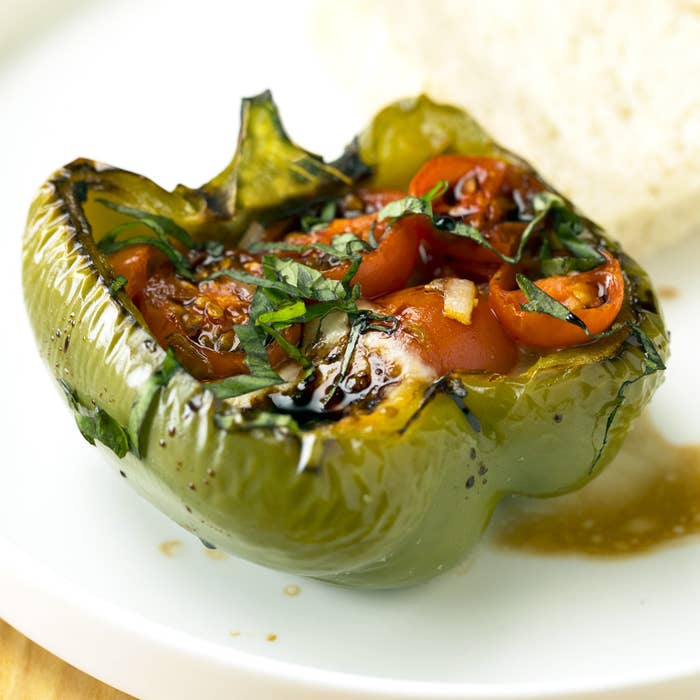 INGREDIENTS:
1 tablespoon olive oil
Half a yellow onion, small diced
2 garlic cloves, minced
2 cups Bonnie Plants® cherry tomatoes, halved
8 ounces fresh mozzarella pearls
3⁄4 teaspoon salt
1⁄4 teaspoon pepper
2 Bonnie Plants® green bell peppers (or any color bell pepper) 1⁄2 cup balsamic vinegar
Handful of Bonnie Plants® basil leaves, thinly sliced
PREPARATION:
1. Preheat oven to 375ºF.
2. Pour olive oil in a small skillet and place over medium-low heat. Add onion and garlic. Saute, stirring occasionally, until vegetables are softened and starting to brown slightly, about 5 minutes. Remove the pan from heat and transfer vegetables to a bowl.
3. In the same bowl, add the cherry tomatoes and mozzarella. Toss the mixture with the salt and pepper. Set aside.
4. Slice the bell peppers in half through the stem. Cut out all of the seeds without removing the stem. Place peppers cut-side down in a baking dish. Drizzle with olive oil and sprinkle with salt. Flip peppers over and fill with the tomato-mozzarella mixture. Be sure to fill the peppers completely, because the mixture will sink down in the oven.
5. Roast peppers in the oven for 15-20 minutes, or until edges of peppers begin to char.
6. While peppers are roasting, make the balsamic reduction. Pour balsamic vinegar in a small pot. Heat until vinegar comes to a simmer. Lower the heat and reduce until vinegar becomes syrupy, about 7-10 minutes. The vinegar should coat the sides of the pan when rolled around. Remove from heat.
7. When peppers come out of the oven, drizzle with balsamic reduction. Sprinkle with basil and serve!