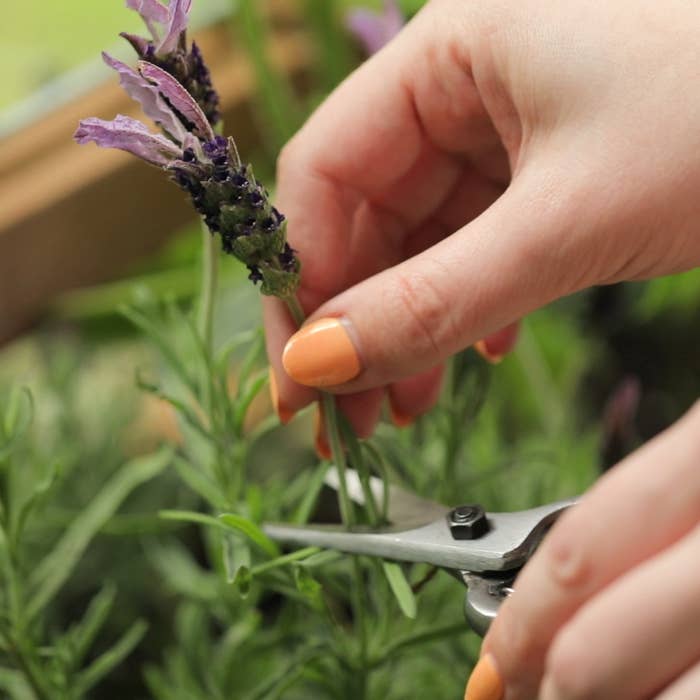 REFRESHING CUCUMBER, BASIL, AND LAVENDER FACE MIST
INSTRUCTIONS:
1. Massage one cup of fresh Bonnie Plants basil leaves with a fork to release the oils.
2. Pour 1 cup boiling water over basil, cover, and steep for 5 minutes.
3. Pour boiling water over ½ cup of fresh Bonnie Plants lavender flowers, cover, and steepfor 5 minutes.
4. Peel and chop one small cucumber.
5. Blend cucumber for 30 seconds in a blender or food processor.
6. Strain cucumber puree, basil, and lavender through a cheesecloth or strainer.
7. Let cool.
8. Pour into misting bottle.
9. Use in the morning to start the day fresh, and don't forget to refrigerate after!
PEPPERMINT TUMMY TEA WITH ​BASIL​ AND LEMONGRASS
INSTRUCTIONS:
1. Boil 24 ounces of water in a saucepan.
2. Add a handful of fresh Bonnie Plants lemongrass to boiling water.
3. Add 1 cup of fresh Bonnie Plants peppermint leaves to the boiling water (spearmint and sweet mint are also great options!).
4. Add ½ cup of basil to the boiling water.
5. Simmer for 5 minutes.
6. Steep in a teapot to reach desired flavor strength.
7. Strain and enjoy!
CALMING HERBAL BATH SACHET WITH LAVENDER, SAGE, DEAD SEA SALT, AND POWDERED MILK
INSTRUCTIONS:
1. Dry desired amount of fresh lavender and Bonnie Plants sage on an ungreased pan in the oven at 100ºF for 15 minutes.
2. Grab a small drawstring bag and fill with:
- 1 cup dead sea salt
- 1 cup powdered milk
- ½ cup sage
- ½ cup lavender
3. Place herbal bath sachet over your bath faucet while the water is running.
4. Soak the stress away!