7.
Wondering why Chad Muska was constantly wearing a backpack: 8.
And, as the series progressed, coming to the slow realization that Chad Muska might just be kind of a weird guy: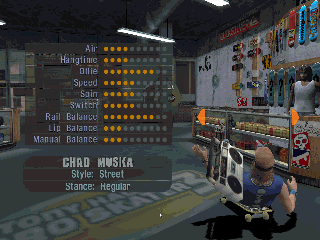 9.
The thrill of landing your first 900, and the subsequent letdown when you realized it wasn't that hard to do: 10.
Finding it impossible to look at any ledge IRL without visualizing doing a crazy grind combo on it: 11.
Same for any staircase/handrail situation: 14.
Having fond memories of warehouses: 15.
Once the game introduced the ability to do a manual, seeing how many tricks you could do in a row without falling: 16.
Feeling like a total badass whenever you went outside to skate after playing a round of THPS: