I'm Boaz! Like a lot of other people, I host a YouTube talk show that's built into a bicycle.
I live in Portland, OR, also home to the show Portlandia. Since Portlandia features so many of the strange people and places of this city, I figured that my Pedal Powered Talk Show was a shoe-in to get on the show. I asked around and couldn't find any leads though, so I posted a video online to try to get their attention,
Either they ignored my video or they didn't see it so I figured I'd try a more hands-on approach. I wrote a heartfelt letter and printed it on a giant piece of poster board. Then I got 400 friends to sign it.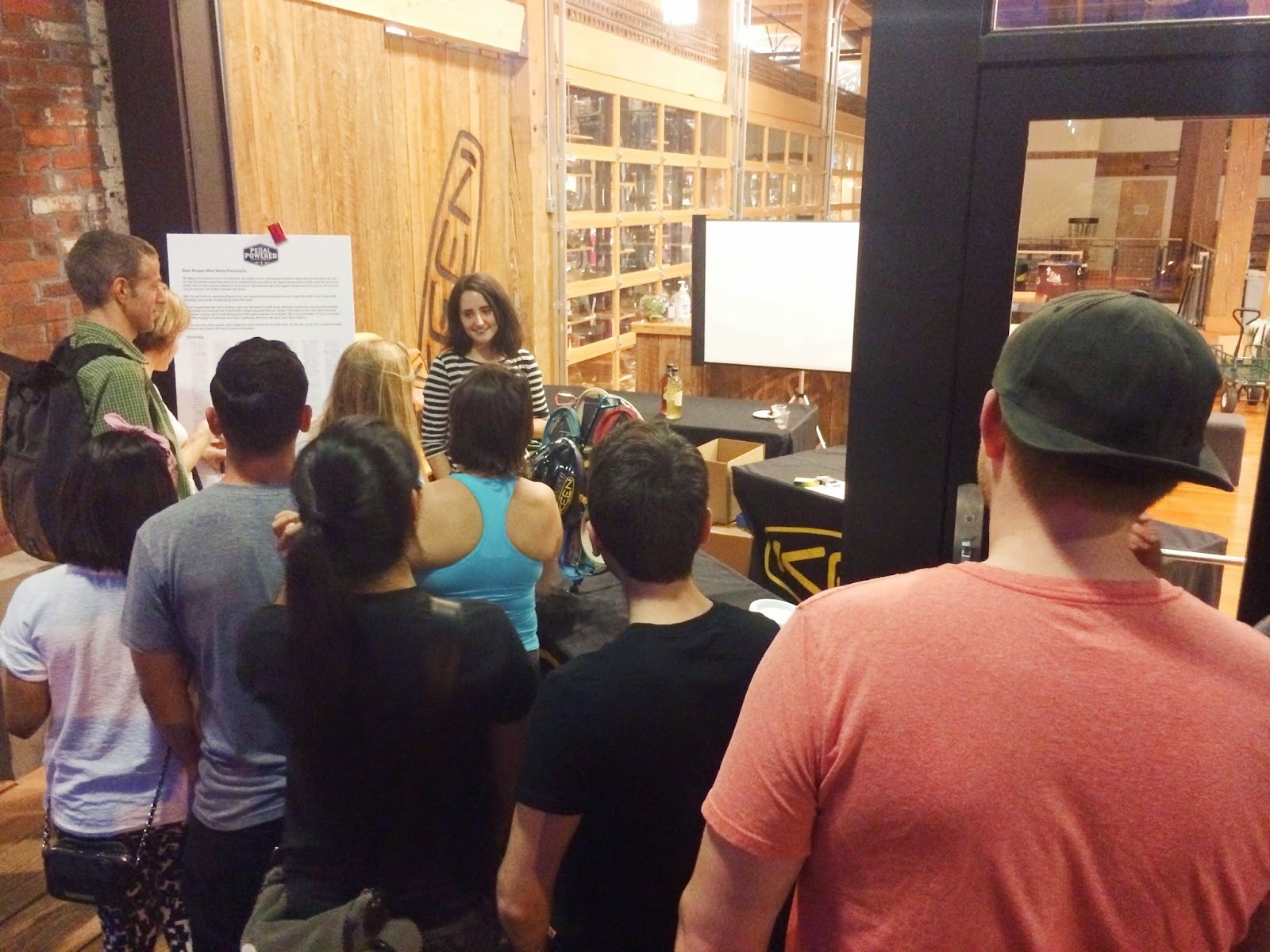 I even appeared on the local news and got the anchor to sign the petition.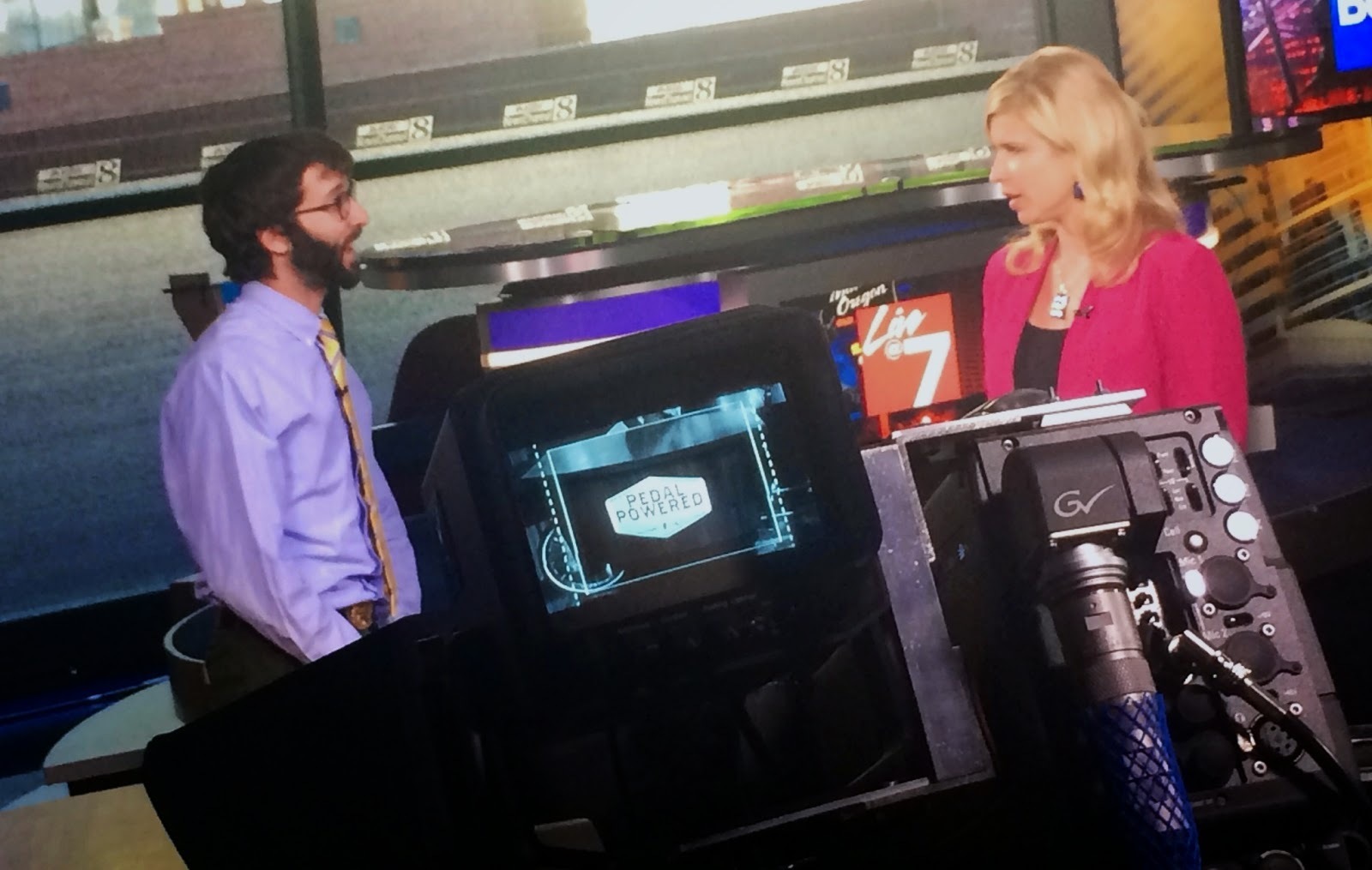 After the entire piece of foam core was covered in signatures, I sneakily found the address of the Portlandia production office and personally delivered it. Though confused, the Portlandia staff people in the office accepted the letter and allowed me to take a photo as I handed it off to a crew member named Moses.
They didn't respond with any official comment, but I did hear from a few sources that confirmed that they had kept the giant petition around the Portlandia production office. It still felt like they could use another reminder and a nudge so I took the photo of the petition hand-off and had it framed.
I then took the framed letter and biked to the Portlandia production offices once again. This time the office staff were racing around preparing to pack up for the day and they were not as willing to pose for a photograph of this most recent "hand-off." A staff worker who introduced herself as Natalie did accept the framed photograph. Still, they weren't reaching out to get me on the show.
A few months later, we interviewed frequent Portlandia guest star, Ed Begley Jr.
Ed agreed with our demands to Portlandia and said he'd mention it to Fred and Carrie. But months went by and we still hadn't heard any word. Maybe Ed forgot?
Every time I met somebody who knew someone who worked at Portlandia, I'd try to get my message through but nothing seemed to be working.
I'd essentially given up.
And then I got a call from Adam. HE WORKS FOR PORTLANDIA!!!!!
He said they were filming a scene with a ton of bikes and he asked if I could come with the Pedal Powered Talk Show and some bicycling friends.
I said, "no thanks." JK! I said YES!!!!!!!!! But I tried to play it cool.
A few weeks later, me and sixty of my bicycling friends showed up near the Tilikum Crossing for our big scene. They directed us on to the bridge and told the group that we'd be pretending to run away from some sort of noodle monster.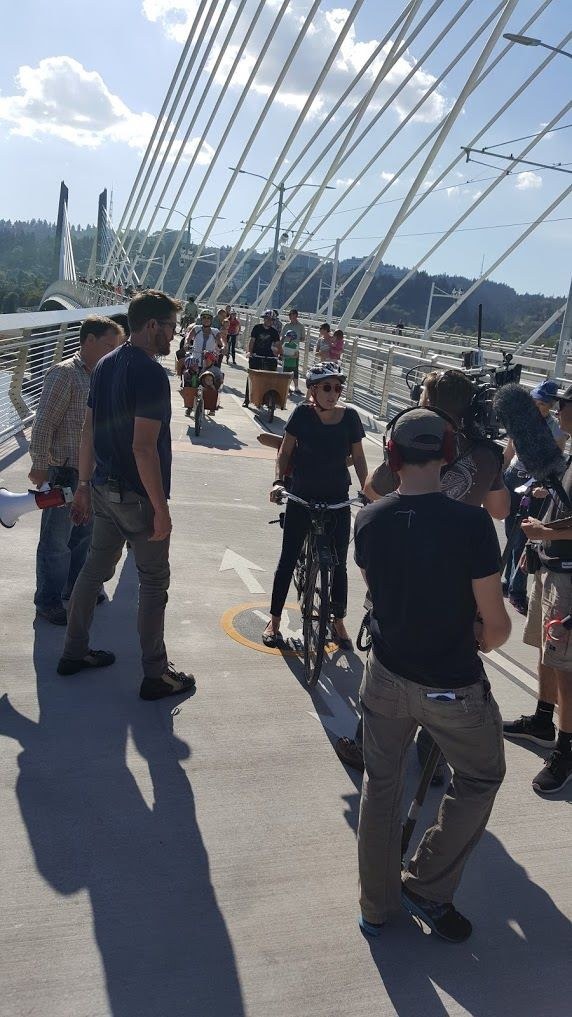 Then they took me aside and told me they'd like me to be a featured screamer. They told me to wait at a specific spot and that the director would tell me what to do. A few minutes later, the director showed up and the director was Steve Buscemi!
Steve talked me through the scene. I'd be screaming right into the camera then I was supposed to turn around and run from the noodle monster. He was incredibly friendly and at one point he even borrowed my friend Brian's unicycle and rode around on it. STEVE BUSCEMI CAN RIDE A UNICYCLE! Unfortunately, no photos exist of that moment but here's a photo of Steve directing with me and the Pedal Powered Talk Show in the background: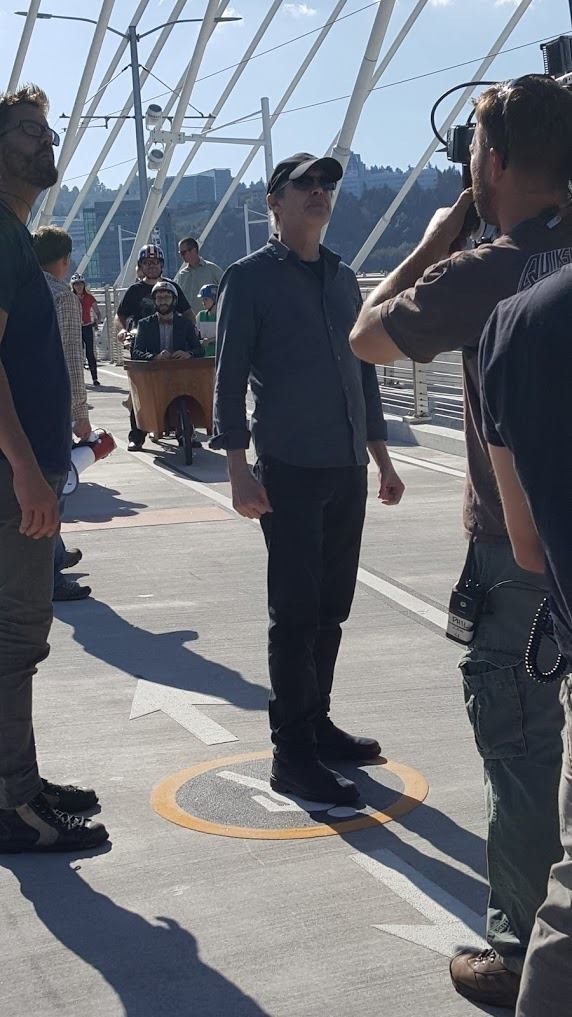 We did about 5 or 6 takes of screaming as all the other cyclists ran around chaotically in the background.
And after 30 minutes of filming, it was all over. Before leaving, I thanked Adam, the casting guy, again and then asked him what had finally convinced him to get in touch?
Had he seen my video?
Had Ed Begley Jr. said something?
"No," he said, "I guess you sent us some giant letter on a piece of poster board and someone put it up in the men's restroom. Now, every time I'm in there I see it so when they told me we'd need a bunch of cyclists, I thought of you first."
I want to take this opportunity to thank whomever hung my giant letter in that restroom. And I have no idea how long my appearance lasts in the episode that airs tonight but I did make it into a bunch of promos and teasers already.
I guess the lesson here is to never give up. Even if your goal is strange and seems a little impossible. You never know what could happen. You might just end up screaming for half an hour on a bridge with Steve Buscemi.
And also, if you're curious about learning more about The Pedal Powered Talk Show you can click here.
This post was created by a member of BuzzFeed Community, where anyone can post awesome lists and creations.
Learn more
or
post your buzz!