Stemming from the combination of the words "glamorous" and "camping", glamping is all about throwing the practical out the window and making camping as comfortable as possible. In essence, it's all about having the right gear to ensure you have the right look and we have six essential tools you need to add to your glamping toolkit.
Lotus Belle Outback 16-foot Tent
No proper glamper would be seen dead in an ordinary tent! What you need is something that puts all other shelters to shame. Introducing the Lotus Belle.
Big enough to house you, Shnoodles, your miniature French-poodle and your nine Louis Vuitton suitcases; the Lotus Belle it the perfect place to get your proper beauty sleep.
The tents are made from strong and weatherproof materials, and are portable (to a point) fitting neatly into a dufflebag. In addition, these very fashionable abodes can be used for sophisticated soirees, funky music festivals or as innovative yoga studios when you get home.
Coleman Raised Quickbed Queen Airbed
Real glampers love the sheer size and comfort of the Coleman Raised Quickbed Queen airbed, primarily because you are sleeping as far away from the dewy ground as possible.
The double-height inflatable mattress is plenty large enough for two people and features an internal coil structure and flocked surface to provide support. It also has a thick, puncture-resistant outer layer to ensure no sharp rocks (or stilettos) dig into your back during the night. It's so practicable that you only need also carry an electric pump to inflate it!
ROK Espresso Maker
Now, if you shudder at just the thought of starting your day without a freshly-made double shot caramel mocha latte, you're going to want to check out the ROK Espresso Maker.
Indeed, the ROK might end up being your caffeine rock on camping trips, as it proclaims to provide real espresso without the fuss of lugging around a heavy electrical machine (and considering you might be camping out in the middle of nowhere without electrical outlets, this is a good thing).
To use the machine, you simply need to take your favourite ground coffee beans, tamp them in to the chamber, pour in boiling water, and then build up enough pressure to pump the coffee through. If you're not a morning person though, perhaps let your camping buddy do the honours on this task.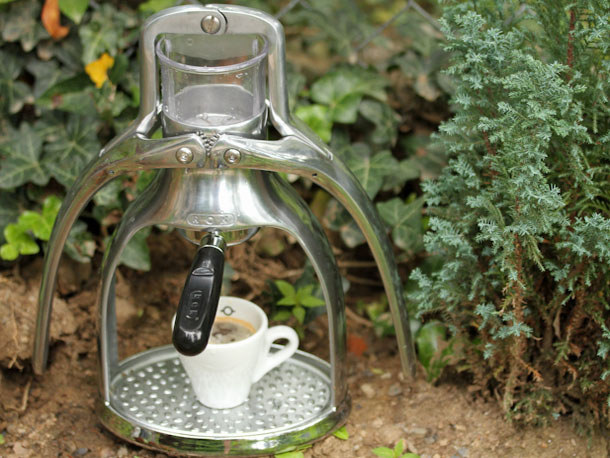 Wash-n Go Compact 3-Gallon Sink
When proper glampers go glamping they bring everything, including the kitchen sink!
However, the Wash'n Go Compact Sink/Organiser is more than just a sink; it is the perfect bathroom accessory for those who don't have a bathroom. After all, who wants to crawl into their tent at night without taking the time to remove the massacra and eye shadow from their face? Likewise, the effort of trying to apply their makeup in a tiny compact mirror can be intolerable in the mornings without the proper equipment. Luckily, your makeup will always look runway ready with the Wash'n Go sink.
The Wash'n Go contains recesses and pockets for storing accessories like toothbrushes and toothpaste; a cup rest and an integrated tray for a bar of soap; a spot for makeup or shaving mirrors; and an LED light. The sink will hold around 11 litres of water that you can use for washing or drinking, and also features a moulded handle for portability.
Victorinox Swiss Army Swisschamp XAVT
No man looks quite manly enough if he doesn't carry around his very own stylish Swiss Army multi-purpose tool. For fashion-savvy glampers that want to look their best while they survive in nature, the Victorinox Swiss Army Swisschamp XAVT is the business.
Perfect for repairing, cutting and threading your glamping cravat should it snag on your partner's Tiffany earrings, this ultimate in space-saving tools features a myriad of items to help glampers accomplish the most laborious tasks, including cutting delicious tomato rosettes for a sensational meal, to popping the cork on a vintage grange of pino gris from the southern vineyards of Marseilles. Imaging how impressed your fellow glamping guests will be when you use the compass to expertly guide them to the Jacuzzi.
The Swisschamp contains everything from a corkscrew, numerous blades, scissors, can opener and fish scaler, to an LED light, digital clock, barometer, thermometer, altimeter, toothpick, pen, tweezers and magnifying glass.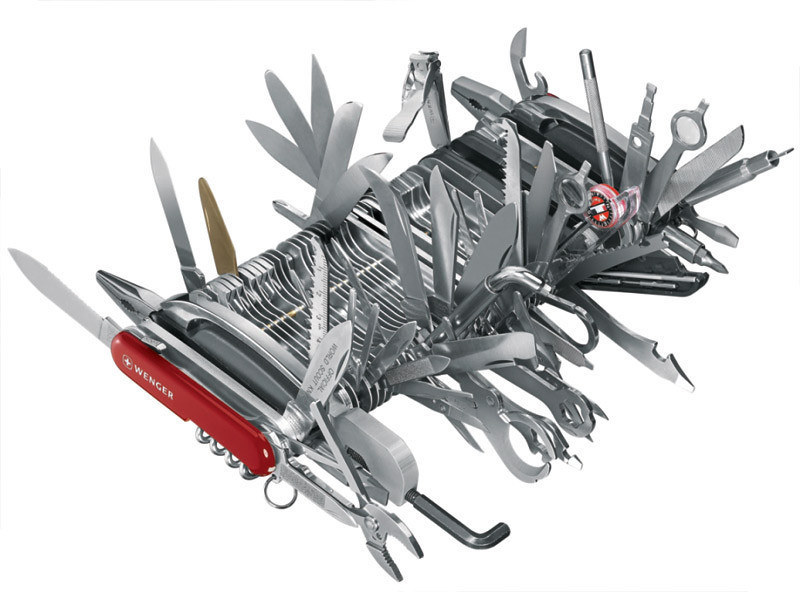 Mystical Fire Colourful Campfire Flames
Your servants have made you a spectacular campfire and while it is impressive enough to attract a crowd of your fellow glampers around its warm curling flames, you secretly curse Manu and Pepe because the flames are just not 'glam' enough. If this has ever happened to you, make sure you have some Mystical Fire at the ready.
Nothing earns a round of applause faster than coloured flames, especially if you create the mystical fire while telling that well known campfire story about how you managed to prepare perfectly sautée lobster tails on your yacht in the Italian Riviera.
Simply toss a packet of these colourful "flames" into your campfire and watch the resulting display of picturesque red, green and blue flames emerge. Mystical Fire can be used on all wood-burning fires.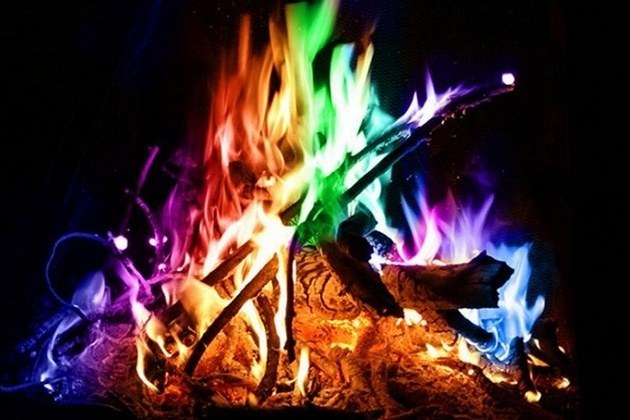 If all these tools seem a little impractical or over-the-top, consider hiring a Britz camper for a more authentic camping experience. It's easy to choose your own adventure with a Britz camper, whether you are looking for a traditional camping experience or a glamping adventure.